We created an Augmented Reality window!
After the success of our Augmented Reality poster we wanted to try to make a slightly more complicated AR project – an Augmented Reality window!
This time we wanted to explore the options of Augmented Reality a bit more. For those of you who don't know, Augmented Reality is all about taking a physical object and bringing it to life on screen. We wanted to add some more depth and bring a 2D animation into a 3D space, rather than just have a flat poster. We printed some Gloss Window Stickers and then, in essence, animated the stickers on the window using Aurasma. Have a look at this video that shows the 'Aura' in action:
The idea behind the design was that, from the outside, the office would appear to be filling up with multi-coloured 'ink' dripping from the ceiling. Since we decorated our windows recently, we wanted to incorporate the existing design in our project. Our solution was to use a similar colour palette and to create a further sense of depth (the dripping 'ink' ends up between the pointed shapes). As the design of the existing stickers were inspired by ink pigments, the new stickers fit the theme well. The geometric shape of the existing stickers also made a nice contrast to the more organic and rounded shapes of our new stickers.
Here is how we made it: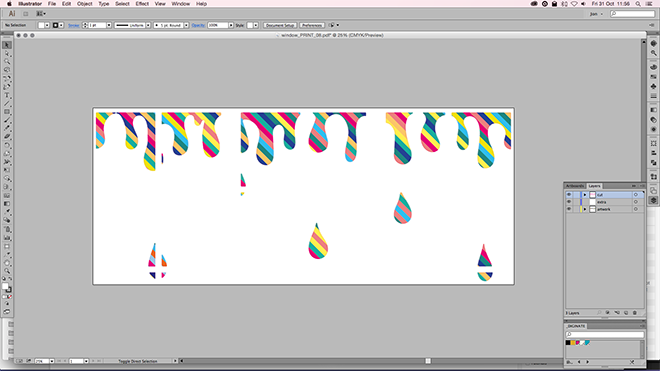 The first step was to print our window stickers. This is our print file, which shows the different stickers and where they go on the window.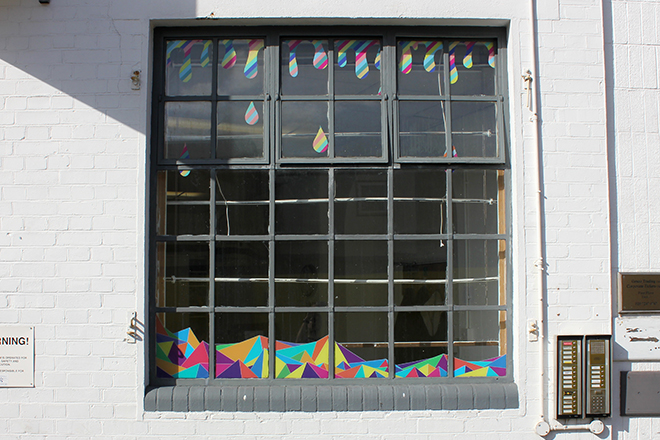 This is our window after the new stickers have been applied.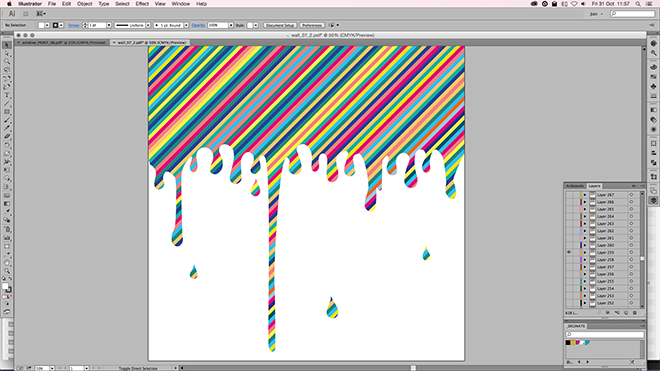 After applying the stickers, the next step was to create the animation. We started with an Illustrator file…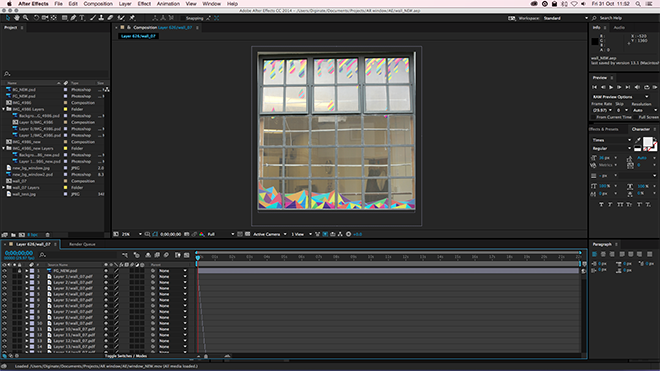 …which was brought into After Effects, along with a picture of the window, to create the animation.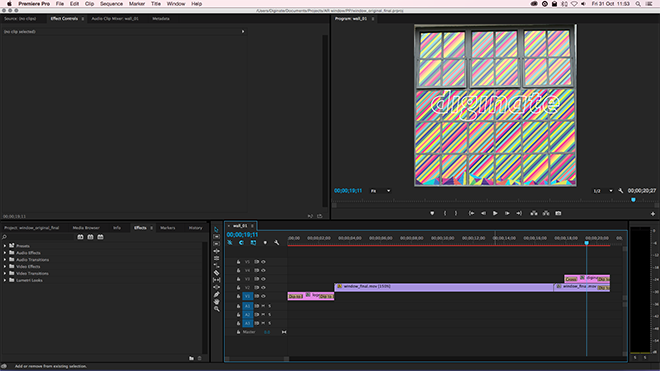 The exported animation was then brought into Premiere Pro for the finishing touches of the video.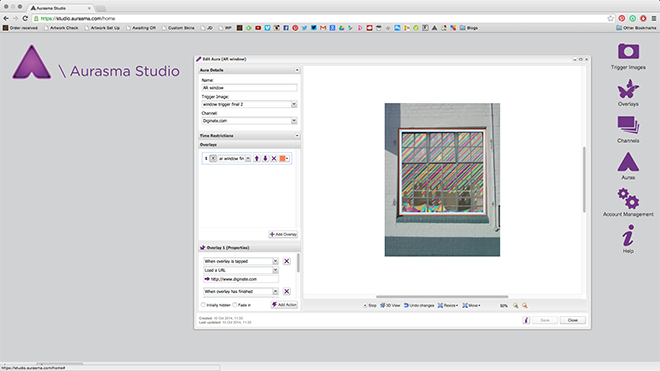 The Aura was created using Aurasma's own online software, Aurasma Studio. In short, the video was paired with a 'trigger' image. When your phone is held up to the image (in this case our window) it triggers the animation, making it appear as if the animation is happening in the three-dimensional space in front of you (via your phone of course).
This is the original animation, which shows you how the window appears on your phone.
Other cool AR projects
There are plenty of other cool and inspirational Augmented Reality projects out there. Here are some of them:
Loads of cool AR stuff happened at Disney Star Wars weekends earlier this year at Walt Disney World, including virtual character experiences and AR guide maps. You could even interact with the logo itself.
For Christmas 2012, Starbucks showed Christmas themed animations on their cups. The animations featured five fully interactive characters.
Via AR tags supplied with vodka bottles, Absolut showed customers how their vodka is made, let them explore Swedish wheat fields and even gave them special drink recipes.
In celebration of their 100th anniversary, Universal Pictures created a range of 15 Blu-Rays and DVDs with special Augmented Reality sleeves, making the covers come alive in 3D using their own AR app.
Making Auras is surprisingly easy and doesn't have to be anywhere near as complicated as these projects. Our Augmented Reality Poster blog post is a good example of a simpler project. Have a look at the Aurasma campaigns site to get some inspiration and see more great examples of AR projects. Also, if you want to decorate your own windows, here is a quick guide to applying window stickers.
Back to Articles