Diginate.com Blog
We tried out some weird imaging apps
Imaging apps are hot right now. Most of us have phones with cameras and three meals a day plus two legs to take photos of (sometimes at the same time), which have gotta be shared. Instagram is so popular that Facebook bought it for $1BN (one actual billion dollars) last year – that's a lot of meals and legs.
But what of the weird, forgotten imaging apps lurking in a dusty corner of the app store? We decided to try a few out and see if we could find another $1BN app in-waiting:
---
Animal Face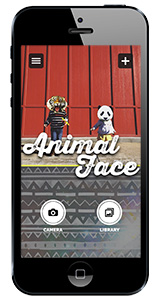 Animal Face is just like instagram – it's got filters, frames, and you can even share on your fave social networks. However, it has the one feature that instagram sadly lacks – the ability to superimpose animal heads on your friends (Instagram – you really dropped the ball on this one).
Here's Jon in the Diginate office (in the background you can see the last few bottles of Rough Draft we just can't quite bring ourselves to drink). It's a nice picture but it doesn't really capture Jon's wild side: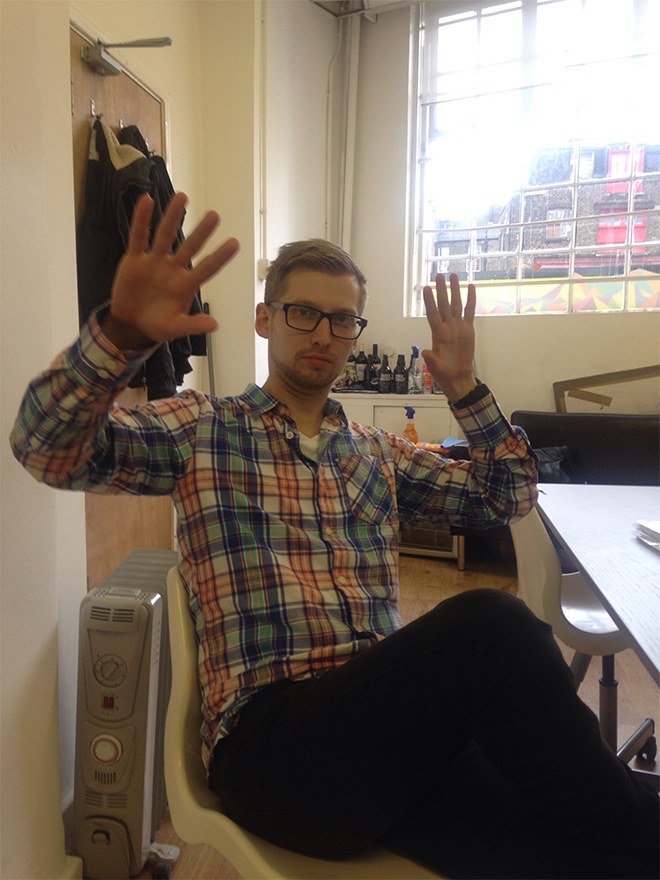 Conforming to the app store instructions, I asked Jon to specify his spirit animal. Jon specified Lion.
After only a minute I had created a this masterpiece: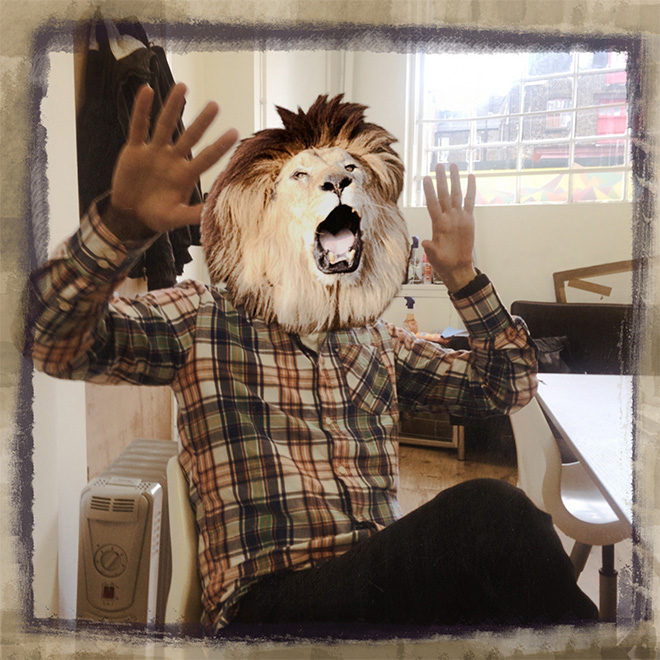 Animal Face really allows you to capture more than just a moment in time – it captures an aura, a spirit which is absent from the more mainstream apps.
Here's Clive embracing his spirit animal, the cow: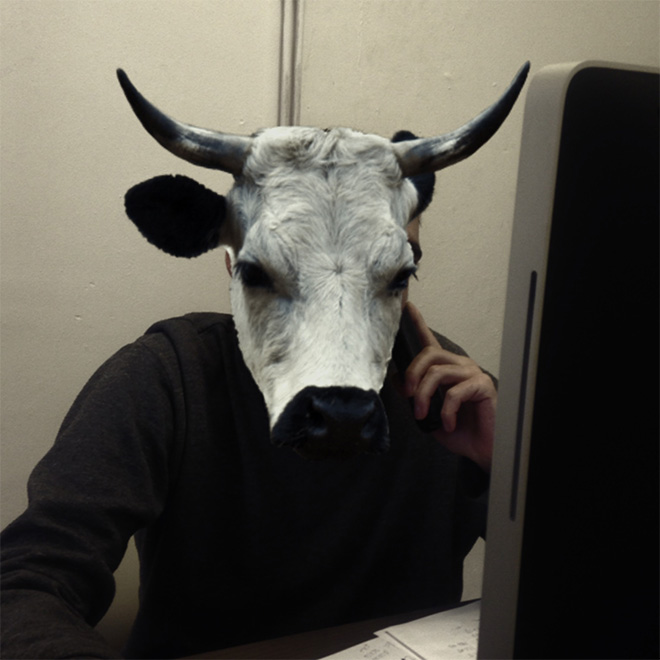 I was so inspired that I asked Jon to capture me as my spirit animal, the grizzly bear. Now that grizzly bears are increasingly being driven into urban areas they enjoy cable knit sweaters as much as the rest of us:
Jon has added a cool scratchy filter to represent the claws of the bear, which works great.
Finally, we checked that tigers and lions play nicely in an office environment (they do):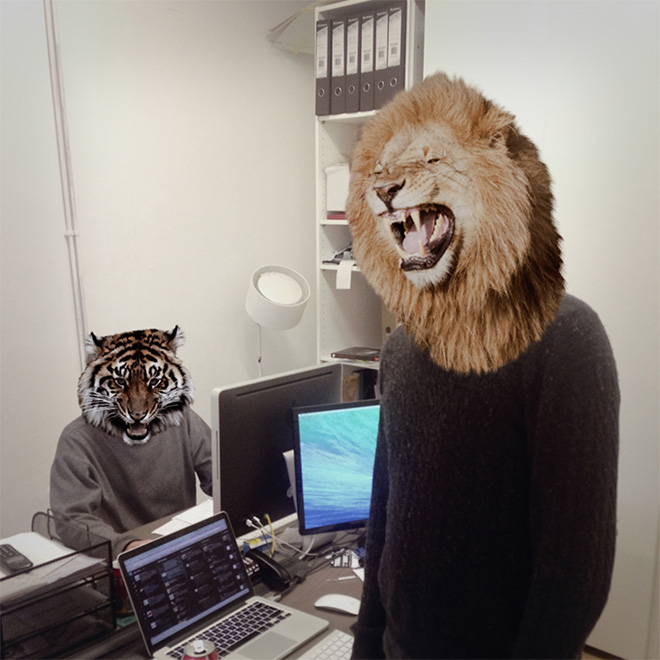 If you want to capture your wild side check out Animal Face here.
---
Picture Pimp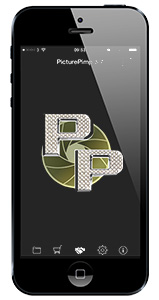 Next up is PicturePimp, " quite possibly the most awesome app ever in the history of the human race". We're running the latest version, 3.7, which has fixed the stupid rotation bug which has been driving PicturePimp users nuts for years.
Like Animal Face, the first step is to take or grab a photo from your camera library. I've chosen Jon again, as he's sat next to me: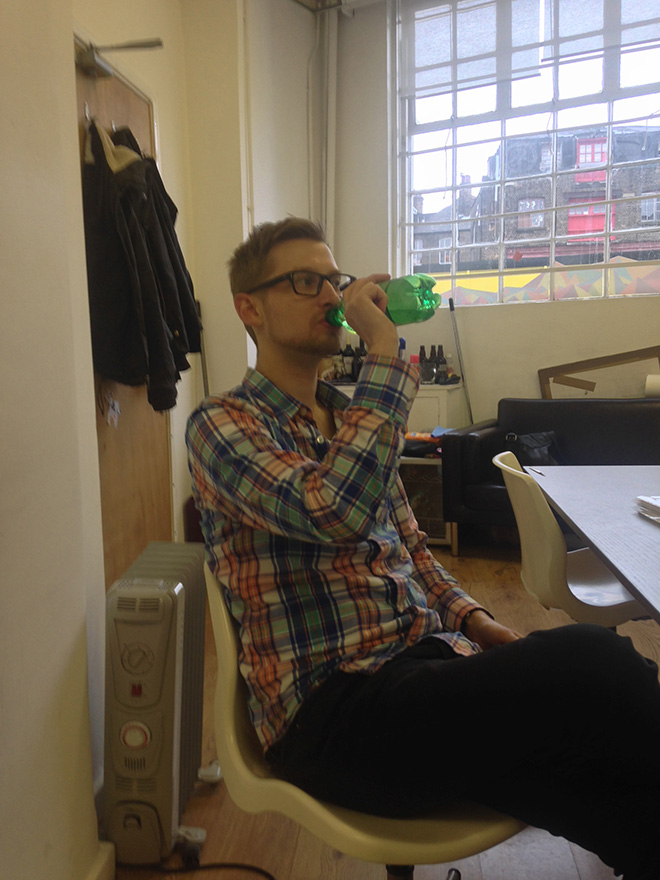 He's drinking some water – it's important to stay hydrated whilst testing apps. I loaded this image into PicturePimp.
Once the image is loaded into the app it has the usual photo filters, but more excitingly, the ability to superimpose an incredible selection of images to enhance your photo, and add text.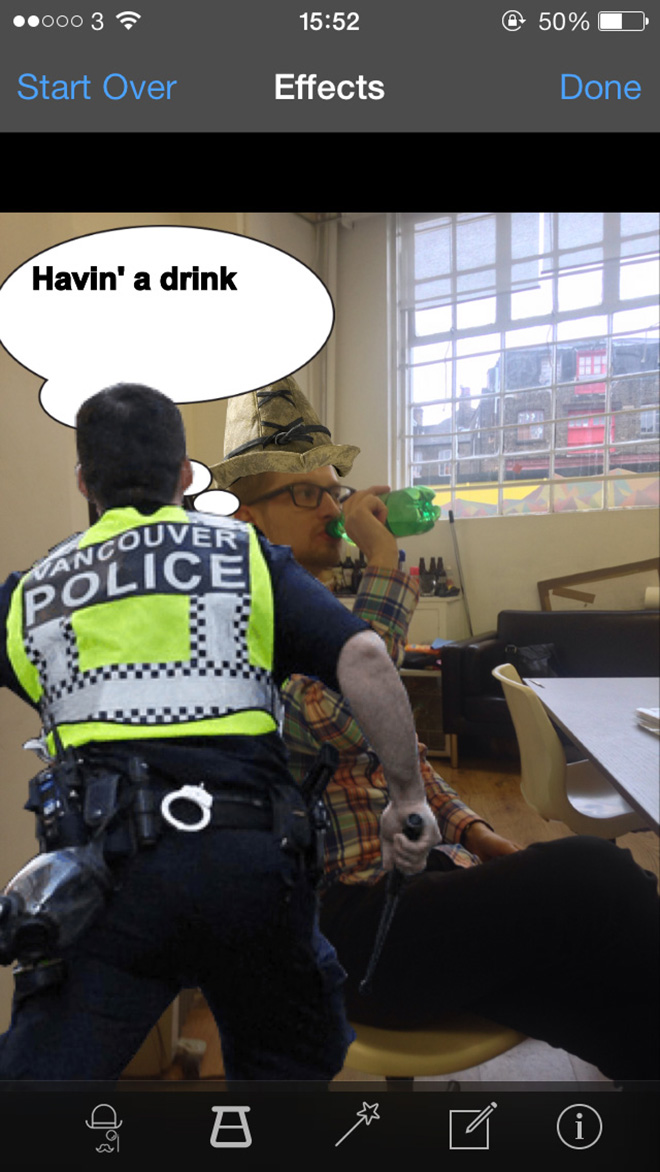 As you can see, I really went to town on this, adding a strange suede hat, a thought bubble, and a member of the Vancouver Police Department wielding a baton. Scaling and positioning the objects is a little fiddly in this app, but eventually I mastered the UI and did a great job.
Here's where it steps up a gear: Once you've completed your photo montage you have the opportunity to merge it onto a template. I chose to merge the image onto the back cover of Justin Bieber's excellent book 'First Step 2 Forever: My Story', held by the singer himself. Check. This: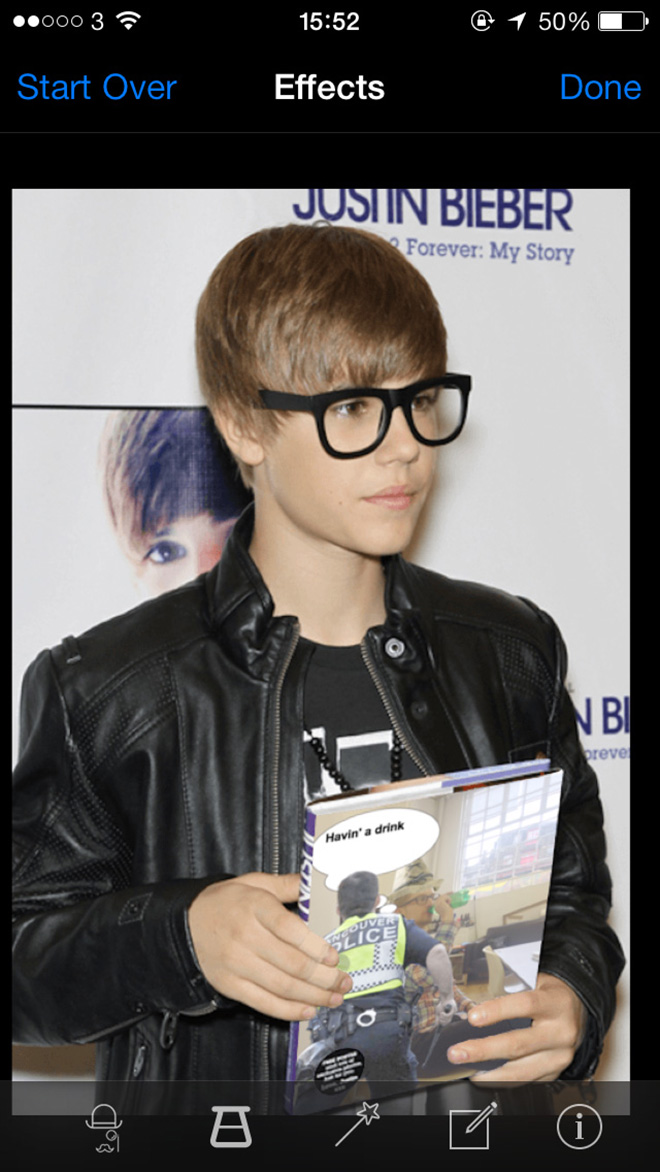 Incredible scenes. If it wasn't for the awkward interface this could be our $1BN app contender.
If you want to be on the back cover of 'First Steps 2 Forever: My Story' download PicturePimp here.
---
Military Me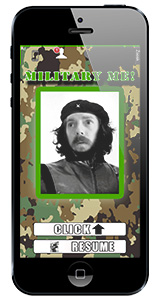 "Want to stick your face on a troop?" asks the blurb for Military Me, the last weird imaging app we're testing. "Yes, we do!", replied the Diginate office enthusiastically.
Military Me let's you superimpose yourself into a selection of military images of varying eras. Once you've fiddled around placing the image you can adjust the hue, saturation and brightness to perfectly match your face to the background image. Jon was first up: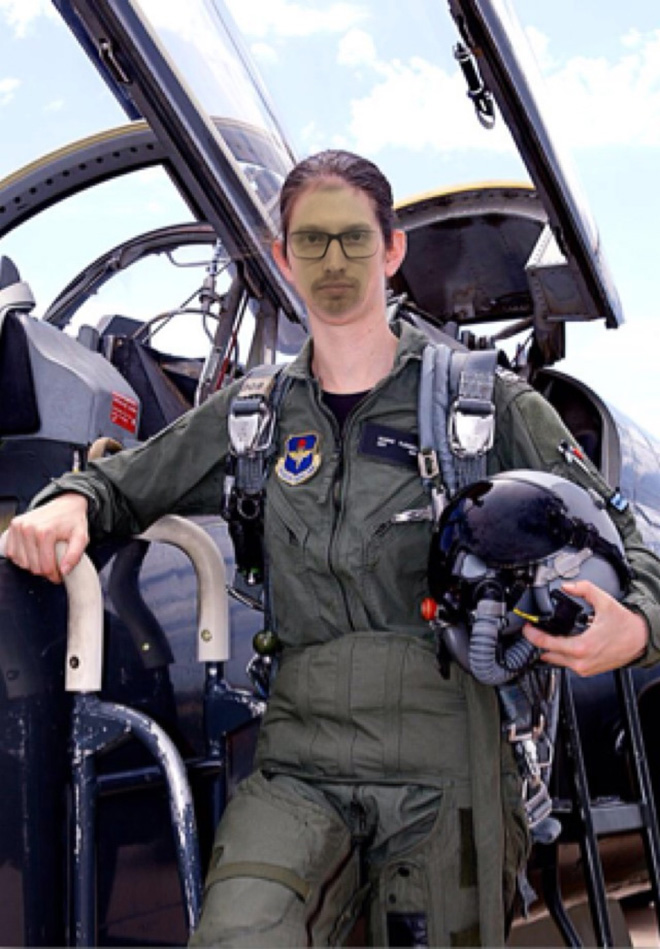 As it turns out, the colouring is quite difficult to master, and Jon's face came out with a somewhat greeny tint. Fortunately, he's just stepped out of a fighter jet, so it probably would be a fair representation of his face at that particular moment.
The colouring was so tricky we quickly abandoned modern images, and got busy with some vintage war photography. Here's Clive launching a bazooka of some kind: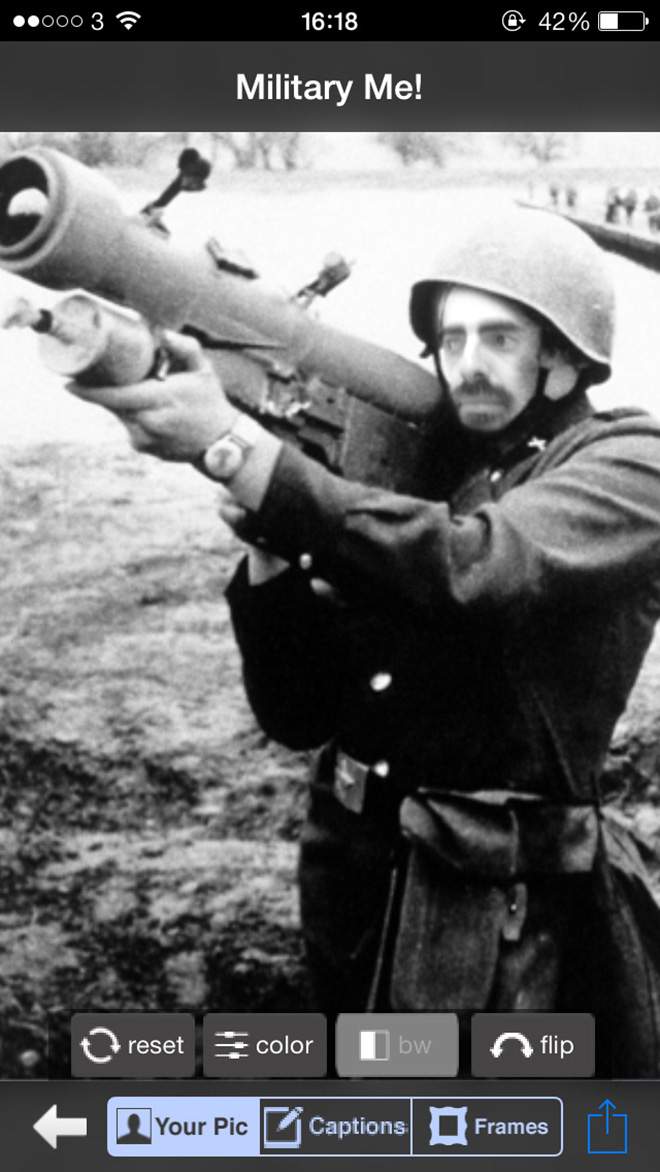 Much better. And here I am carrying a large bag: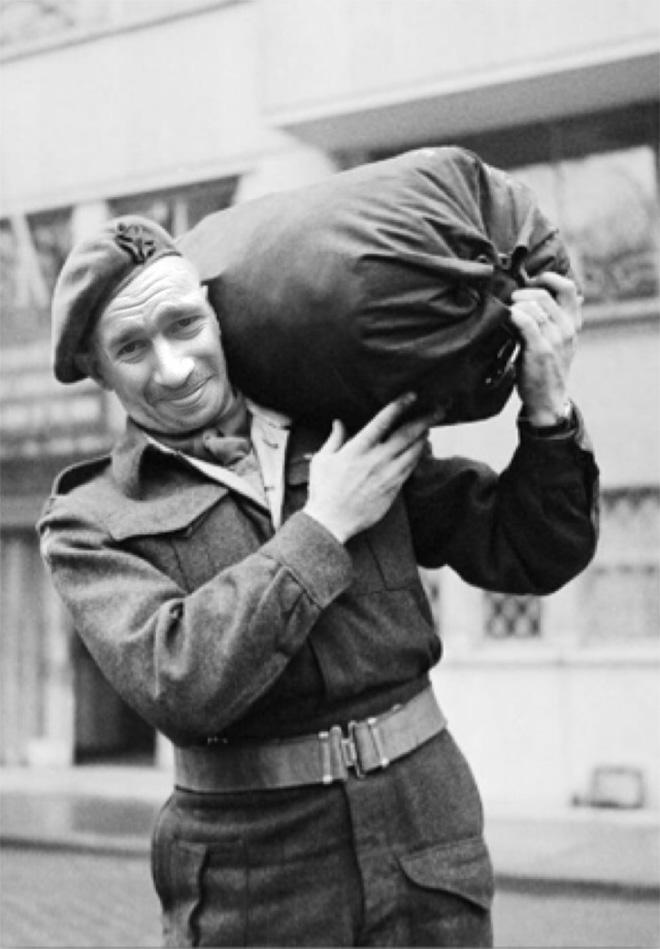 The sizing and positioning UI of Military Me is superior to PicturePimp, but you can't help feeling the scope is a touch limited. Get it? Scope!
Picture yourself in a combat situation – download Military Me here.
Overall, the slickest of the three apps is Animal Face, but when it comes to rollocking good times PicturePimp can't be beat.