We made an interactive beer: Rough Draught!
We decided to brew our own beer, but we didn't stop there. We created an interactive beer! Diginate presents Rough Draught.
Brewing your own beer is surprisingly easy, cheap and enjoyable. Basically, if we can do it, you can do it. We know this blog post already sounds amazing, but we haven't even got to the best part yet! Our special brew, which we have named Rough Draught, even supports NFC technology! That means that simply by tapping the label your phone will take care of business while you're enjoying* a lovely* pint of Rough Draught. Part beer – part personal assistant!
There are other 'interactive' beers out there (not for general sale though), but all they do is light up when you touch it. Not very interactive. This is definitely the first beer in the world that will tell your boss you're sick!
*Disclaimer: Rough Draught is difficult to enjoy and can not under any circumstances be considered 'lovely'.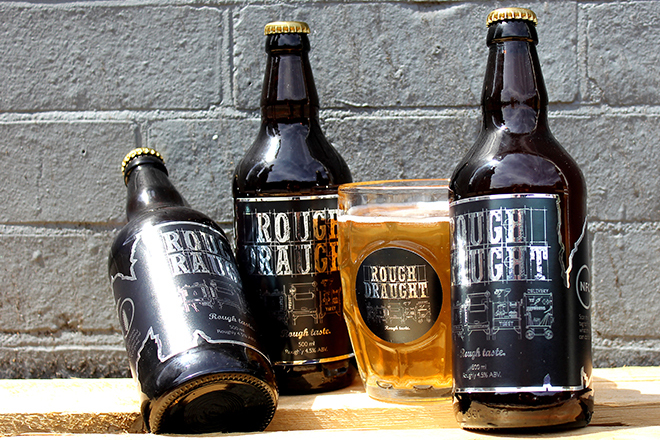 Rough Draught – rough taste. But at least it's useful! So useful in fact that it will sort out your whole evening.
Here's how it works:
All you need to do is tap the label and your phone will automatically:
Text your girlfriend/boyfriend/mother/cat and let them know you will be home late and they shouldn't wait up.
Email your boss and let him/her know that you don't think you'll be in tomorrow because you're feeling a bit 'rough'.
Tweet your friends and let them know they should come round for a Rough Draught.
Open Maps to find a pub in the area so you can continue your evening once you run out of Rough Draught!
Text girlfriend: 'Hi honey. I'm working late on a couple of drafts. Don't wait up.'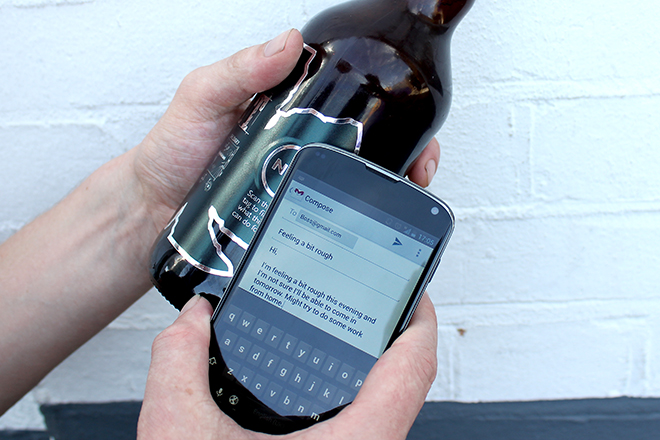 Email boss: 'Hi. I'm feeling a bit rough this evening and I'm not sure I'll be able to come in tomorrow. Might try to do some work from home.'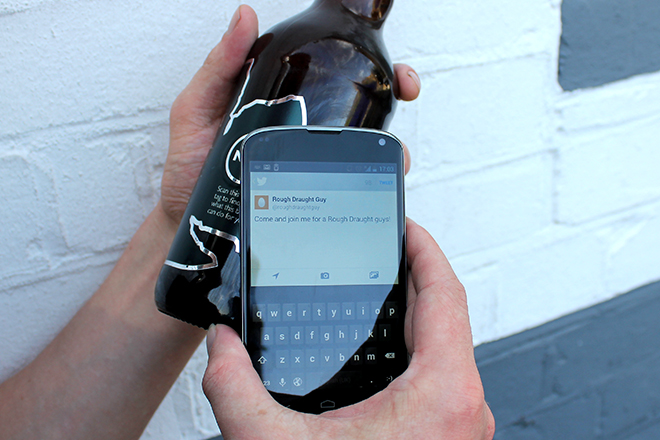 Tweet friends: 'Come and join me for a Rough Draught guys!'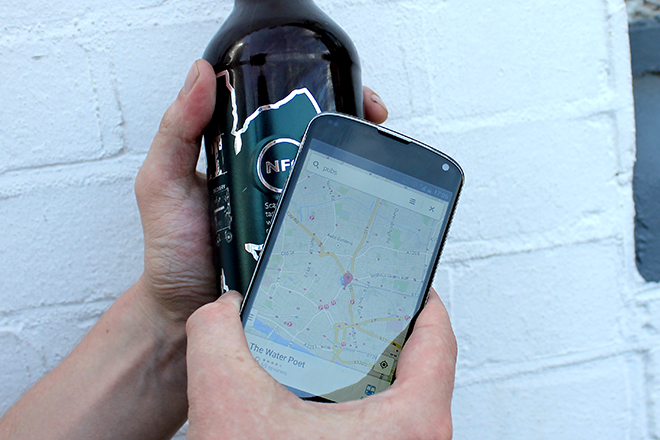 Check what pubs are in the area.
All these tasks except the last one runs in the background so it's actually even simpler than it looks.
Here's how we made it: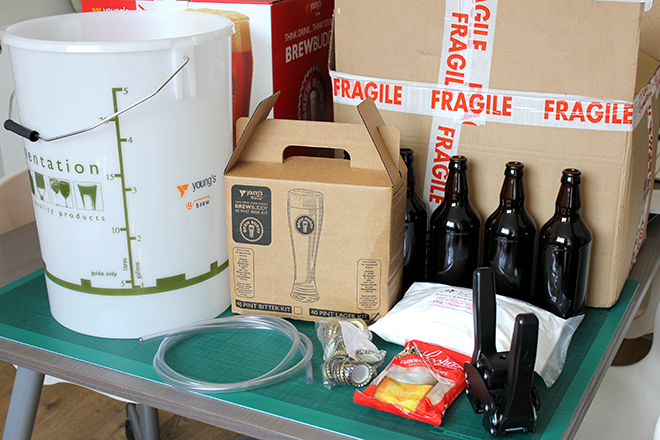 This is what you need: Brewing kit (bought from Home Brew Online; contains a fermentation bucket, syphon tube, hydrometer and the brew mix), brewing sugar, carbonated sugar drops, bottle capper and 40 glass bottles with caps.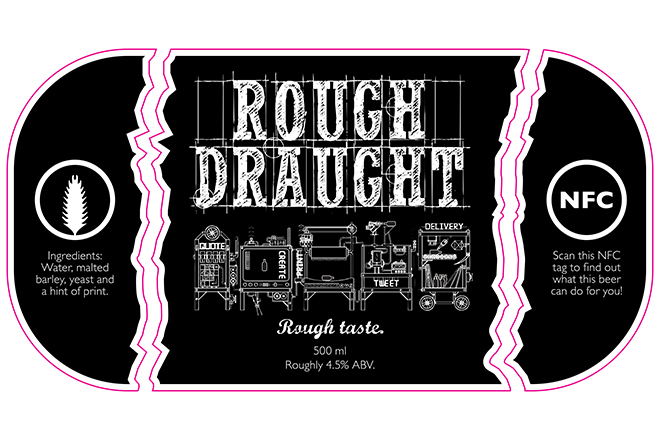 The logo and shape of the label was inspired by the idea of the 'rough draught/draft' – a draft of a font and scraps of paper that rough drafts are often drawn on (hence the torn edges). We also added the machine image to tie it in with our website, but in a rougher, more 'drafty', hand drawn style. We made three variations of the label design, as you would have several different drafts of one design.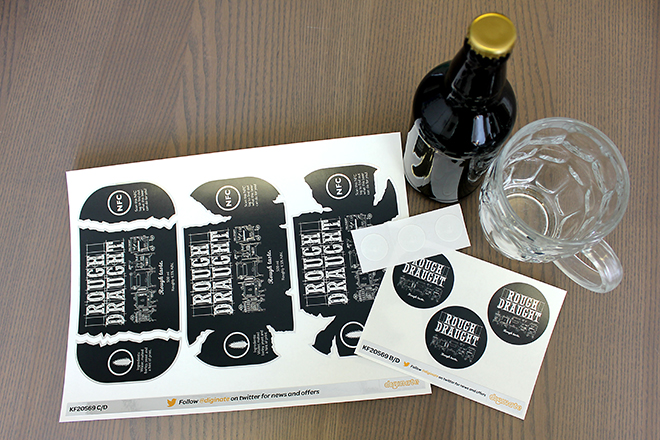 After brewing, bottling and leaving the beer to ferment a couple of weeks (have a look at the bottom of the page if you want some guides to beer brewing) it was time to label the bottles. We used Custom Shape Metallic Vinyl stickers to make sure the labels really stood out. To make the experience complete we decided to also brand some glasses.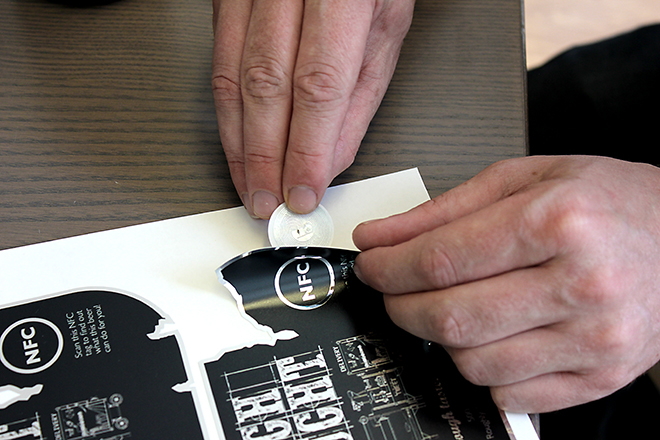 We bought some NFC tags from NFC Direct which we then programmed on our Android phone with NFC Task Launcher.
---
How to programme NFC tags:
Buy NFC tags
Download NFC Task Launcher
Open the app and add tasks
Write tag by tapping (scanning) it
Repeat previous step for all tags
---
Here are our labels: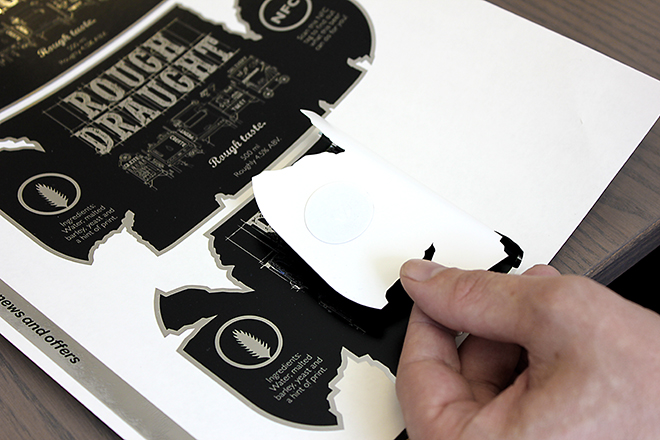 It's the 'hint of print' that really gives Rough Draught its unique flavour.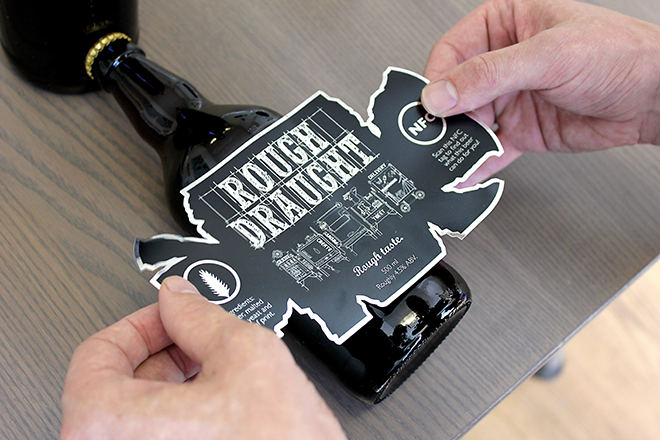 After the tag is in place it's just a matter of putting the sticker on the bottle.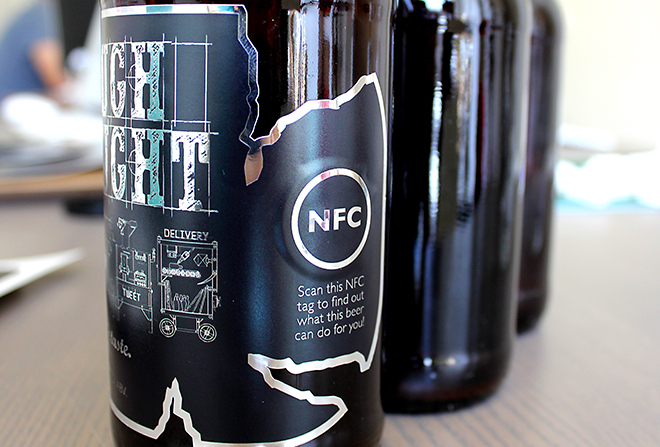 Ready for tapping!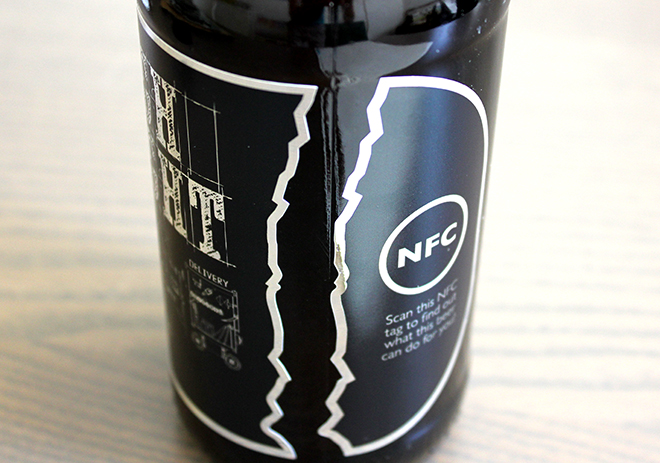 Here is another variation of the label.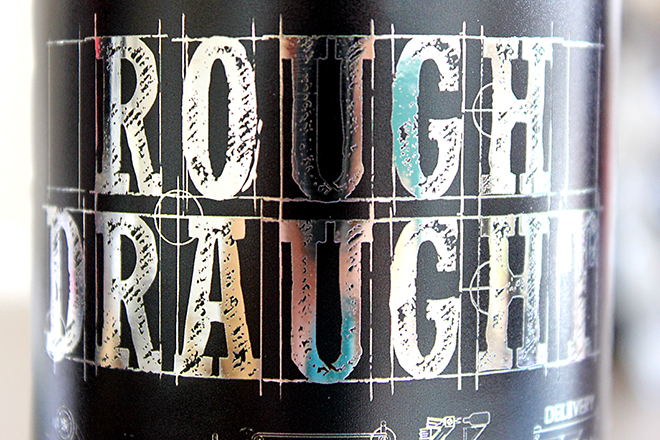 The silver metallic vinyl looks pretty good!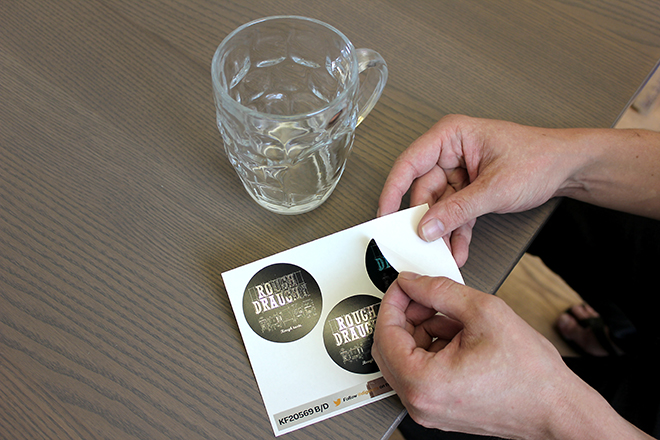 Time to do the glass.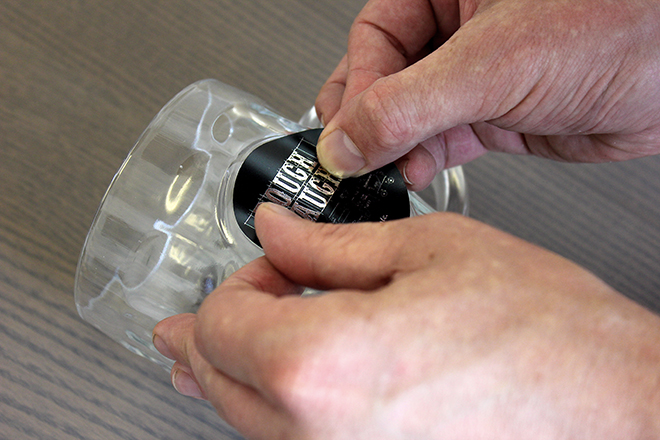 We did the same finish on this sticker as the bottle label.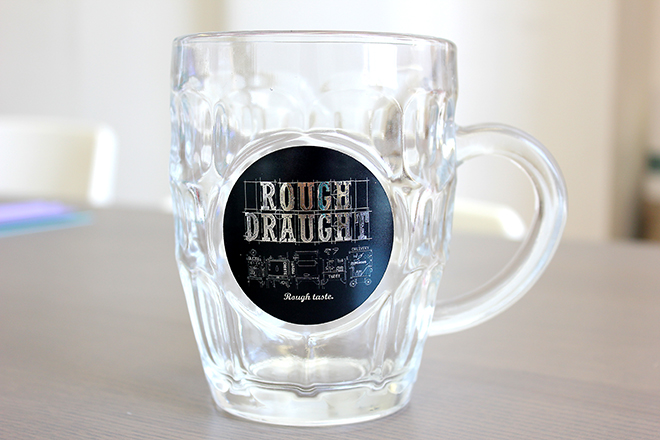 The glass really enhances the Rough Draught experience.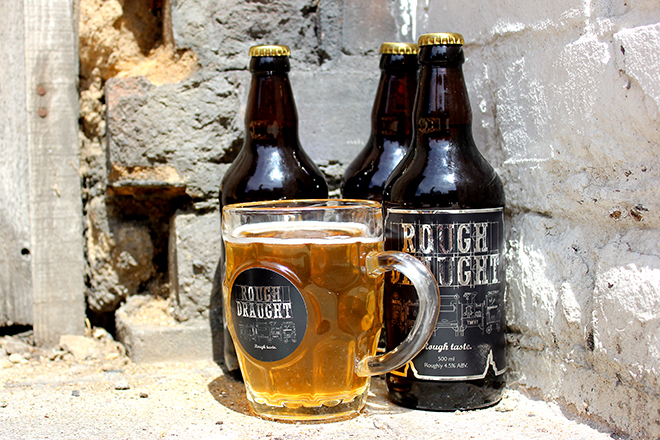 Mmm, looks tasty! A lot tastier than it actually is. But, hey, at least it's drinkable!
---
So how does it taste you ask? Well, here's a review:
Appearance: Bright, slightly straw coloured. Clear. Small head and not much carbonation.
Aroma: Bitter, slightly hoppy and malty.
Taste: Light body. Hoppy; crisp and bitter. Acidic and sour. Long, bitter finish.
Overall: Will appeal to only the most hardened and least discerning beer drinker.
---
Here are some more things you can make NFC tags do:
Turn on/off and connect to WiFi.
Connect a Bluetooth device
Check in on Facebook, Google+, Foursquare etc.
Open or close any app
Open a website
Speak text (if you're too shy to speak yourself)
Play media
Start navigation
Add event to calendar
Place a call
It's most effective when running more than one task at the same time. For example you can tap an NFC tag when you get in your car and your phone will turn off WiFi, connect to a Bluetooth headset and start navigation. Or, when you go to a pub it can check you in on Facebook, connect to WiFi and open a website that will let you know what events are on at the pub in the near future. It can even add these events to your calendar.
---
Finally, if you want to brew your own interactive beer, here are a couple of handy and simple guides. Happy brewing!
Back to Articles