Diginate.com Blog
We tested 5 vector graphics alternatives to Illustrator
When it comes to vector graphics applications there's no question that Adobe Illustrator is king of the jungle. Here at Diginate we virtually live in Adobe Illustrator – everything we print passes through it at one point or another during the process. It's a great piece of software but it isn't cheap, so for non-pro users who want to create pro-quality graphics the cost can be prohibitive.
With this is mind, we decided to test out some lower-priced alternatives for creating great vector graphics on a budget…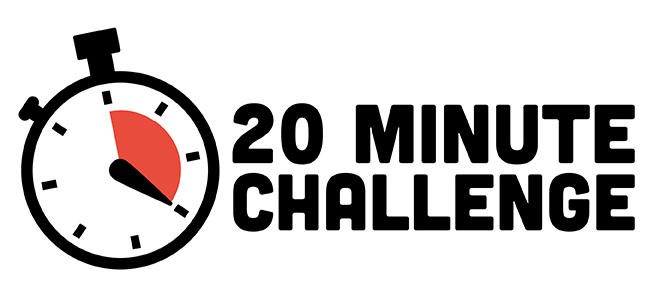 One of the crucial factors with a new piece of software is the learning curve. You don't want to spend 3 days figuring out how an application works to design a handful of stickers for a stag do. On this basis, we chose 5 vector graphics applications, installed them on the Rally Mac, and gave chief artworker Max twenty minutes to create a vector version of a well known football club crest in each package, with no prior knowledge on the software. Here are the results…
---
Affinity Designer – Blackburn Rovers
Affinity Designer was released in 2014 and aims to be a serious competitor to Adobe Illustrator. You can also get Affinity Photo, which aims to be a serious competitor to World of Warcraft.
To test out Affinity Designer we gave Max the Blackburn Rovers logo. Not the 1995 Premier League Champions though, the South African 2010 Vodacom Eastern Cape League winners of the same name, and probably the only football team in the world to have a book in their team crest.
Max fired up Affinity and got designing…

After 20 minutes here's what we got…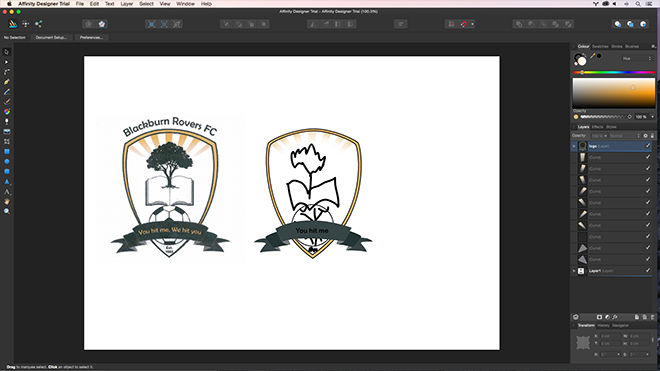 The verdict:
Max was slightly disappointed with Affinity. The interaction with artwork objects wasn't intuitive enough, and the software isn't particularly responsive. Much of the 20 minutes was spent figuring out the layer palette, resulting in much of the detail being rendered by hand with a brush. Sadly there wasn't enough time to fully realise the slightly threatening motto 'You hit me. We hit you'. On the plus side, Affinity has infinite zoom, and excellent gradient control. This was also a tricky image to trace on first time of asking.
6/10
Affinity Designer is available here for £29.99. Mac only.
---
iDraw – Real Madriz
Forget about the world's most valuable football club, Real Madrid; the team you really ought to be supporting is Real Madriz of the Nicaraguan Primera División. And forget about Adobe Illustrator, what you really ought to be creating your vector artwork in is iDraw, a powerful graphics app for OS X and iOS. Or should you?
To find out Max booted up iDraw and got busy recreating Real Madriz's iconic crest…
After 20 minutes…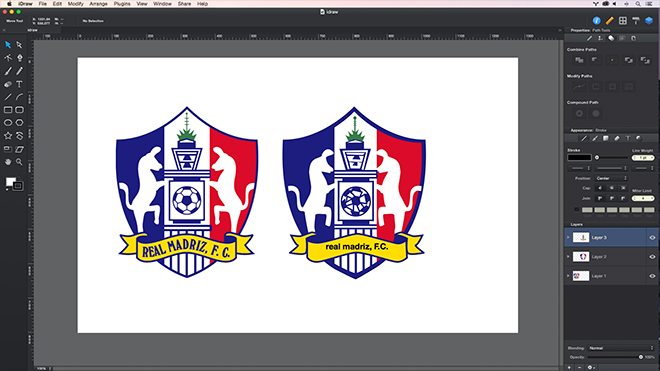 The verdict:
iDraw was the perfect package to do justice to a Primera División club like Real Madriz. The interface is simple and intuitive, so the software is quick to learn. With an extra ten minutes the design could have been realised perfectly – as it was, the football looks more like a nuclear turbine, and the text formatting is incomplete.
8.5/10
iDraw is available here for $24.99. Also available on iPad for $8.99.
---
Sketch – Mighty Blackpool FC
Sketch is one of the more intriguing propositions on the list – it's aimed at web and product designers, so is more geared to creating UIs and webpage layouts rather than classic football club logos. The software has gained a lot of traction in the tech world though, so we were excited to try it out.
The term 'Mighty Blackpool' might seem like somewhat of a dichotomy these days, but not if you're a follower of the Sierra Leone Premier League, where the 'Tis-Tas Boys' compete. They are named in homage to Sir Stanley Matthews and his 1954 Blackpool FC team, although oddly the Mighty Blackpool crest has more in common with AFC Blackpool, who compete in the North West Counties Premier Division. This only serves to demonstrate what a confusing world we all live in.
Sketch, ready…
After 20 minutes…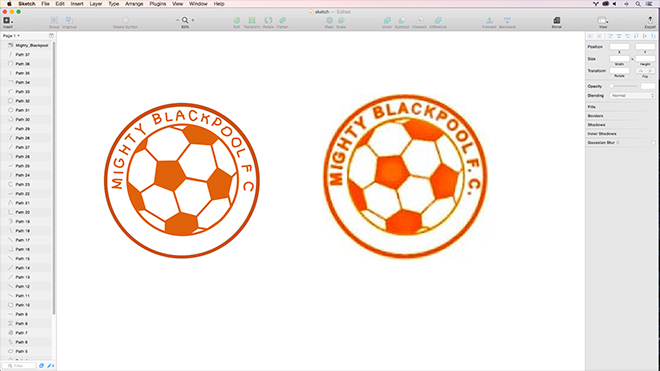 The verdict:
Sketch was the only software that crashed during our test. Fortunately, when reopened it had saved progress automatically. Mighty Blackpool's simple design was straightforward to recreate until the text element; Max couldn't figure how to type on a path, so instead had to render the text toddler style with the pencil tool.
7/10
Sketch is available here for $99. Mac only.
---
Artboard – Liverpool FC
Next time you're in Montevideo, capital city of Uraguay, make sure you get along to a Liverpool game, especially if it's a local derby against fierce rivals Montevideo Wanderers. The club even sports an all red away kit in homage to their more famous English namesakes.
To recreate the famous Liverpool badge we downloaded Artboard, a Mac only app claiming to be simple, powerful and fun…
After 20 minutes…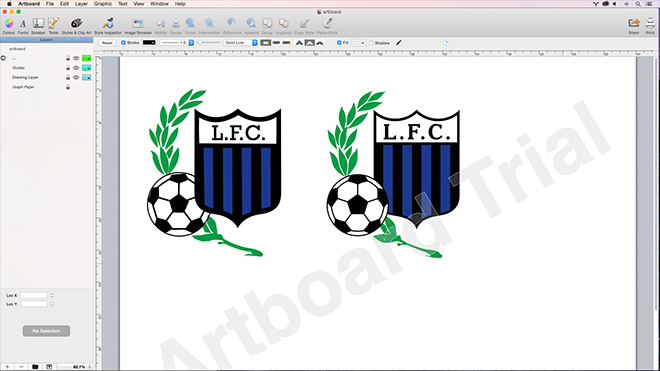 The verdict:
Max actually completed Liverpool's logo using Artboard. The software is easy to use and has native Mac windows and palettes giving it a familiar feel. Unfortunately the selection of tools is a little limited, and controlling bezier curves was tricky.
8/10
Artboard is available here for $29.99.
---
Inkscape – Barcelona SC
Inkscape is the only free option here – it's open source and has been around in one form or another since 2003. Fully featured and widely regarded as Adobe Illustrator's closest equivalent, we were interested to see how it shapes up against the new kids on the block. It's also the only option here available for PC.
Barcelona has been around for even longer than Inkscape, having been founded in 1925. We're not talking about the Catalan giants of Spanish football though, we're talking about Barcelona Sporting Club of Guayaquil, Ecuador. Like FC Barcelona, Barcelona SC also compete in a local derby known as 'El Clásico', but that's not where the similarities end: their club crest is almost identical, but with a significantly worse typeface.
Installing Inkscape on Yosemite turned out to be a bit of a chore, but eventually we were up and running, and ready to design…
After 20 minutes…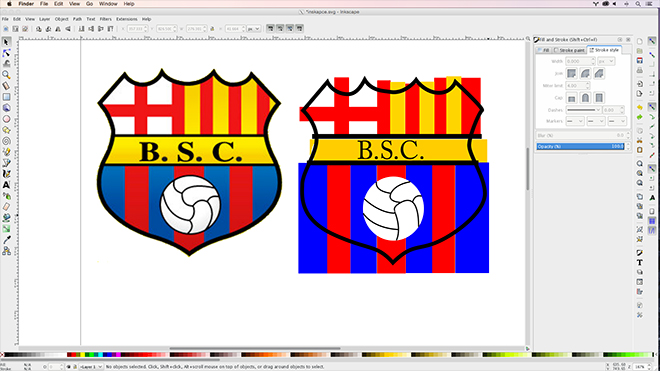 The verdict:
Using Inkscape on a Mac is a strange experience – it feels like using a windows program on a remote machine. The software is laggy, so when moving objects around they leave a trail behind them, a bit like when you complete Windows Solitaire. None of the shortcuts are native to Mac, so common commands throw interesting and unexpected results, and the user interface is confusing with hard to understand icons. Despite this, Max got close to completing the Barcelona logo.
4/10
Inkscape is available for free here.
---
Overall
In fairness it's hard to judge a piece of software in 20 minutes – there's no doubt that some of the more richly featured packages such as Affinity would benefit from a greater time investment. On the basis of the 20 minute challenge though, iDraw came out on top thanks to its intuitive interface and easy to use tools – it was also the cheapest paid app. Artboard came in a close second, with Inkscape at the rear of the pack.
So, in conclusion, when you need to create some new vibes for Triangle United or Square United and have to choose between the big players in vector graphics, iDraw is your best option.