Diginate.com Blog
We made a Christmas goose to lay eggs in the Diginate office
It's been a fun year on the Diginate blog – amongst other things we've found out how much footballers look like themselves, printed some bizarre cat patents, and predicted England football matches with a crossbow.
To round off 2014 in a festive spirit we were challenged by the rest of the Diginate office to create something based around the 12 days of Christmas. The only stipulation was that it had to be awesome.
Leaping lords, we decided, were too technically challenging, and Maids-a-milking had the potential to be messy. It had to be day 6: six geese a-laying.
Obviously constructing 6 fully functioning geese would have been a touch time consuming, so we decided to just make one. You can look at it 6 times, or drink a bottle of mulled wine before viewing. The goose was to be life size, and the laying was to be controlled by everyone's favourite timesink, twitter.
Here's what we used to make our goose:
– Diginate matt vinyl stickers
– foamboard
– some plastic pipe
– a waste pipe junction
– a travel hairdryer
– some ping pong balls
– a WeMo switch
Here's how we made it [scroll down for video]: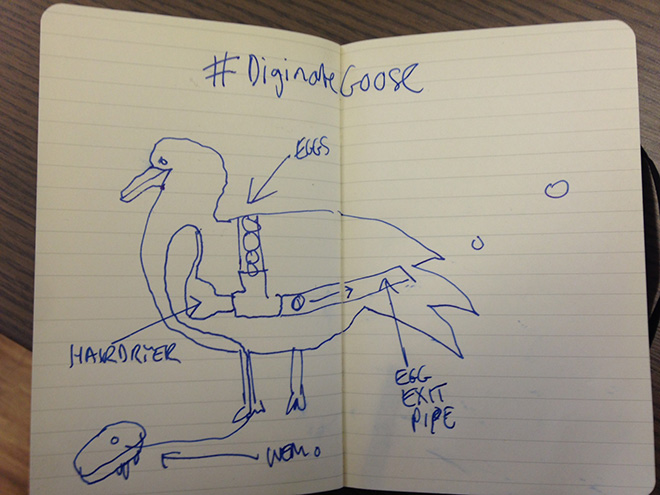 This is a technical drawing showing how the goose works. Let's get to work…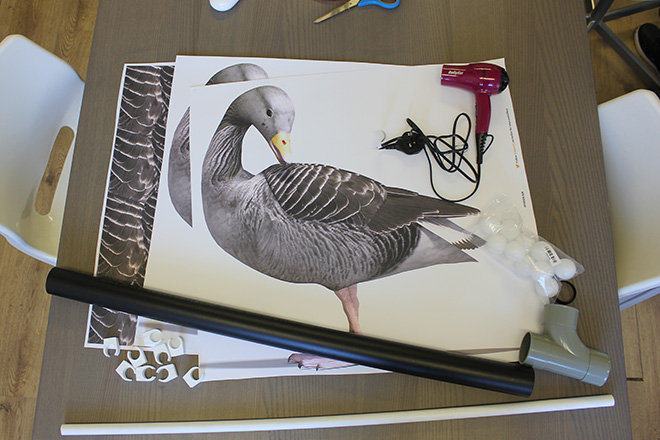 We chose a BaByliss 5282BAU Nano Travel Dry 1200 Pink as it gets excellent reviews on Amazon, from geese.
Next we mounted our geese stickers to foamboard and hand cut them to shape.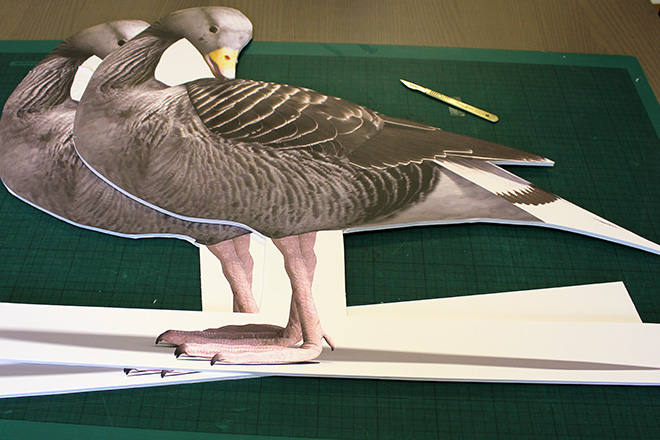 We then started adding the innards, centred around the beating heart of the goose – a 50mm waste pipe junction. It's well known in ornithological circles that the beating heart of all geese is a 50mm waste pipe junction. We also added struts made from plastic pipe to hold the goose together.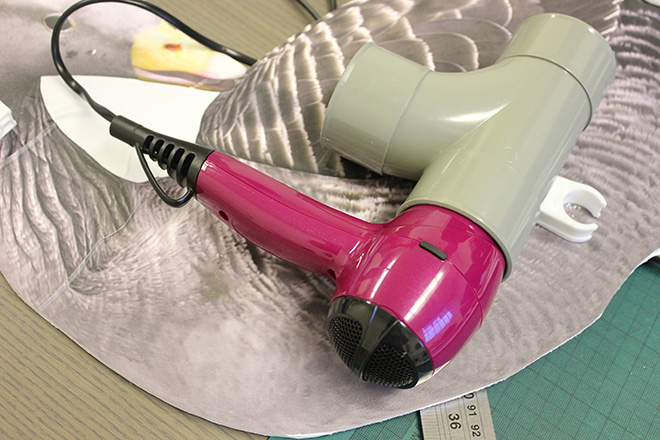 The BaByliss 5282BAU Nano Travel Dry 1200 Pink fitted perfectly into our 50mm waste pipe junction. Exactly as it says on the advert!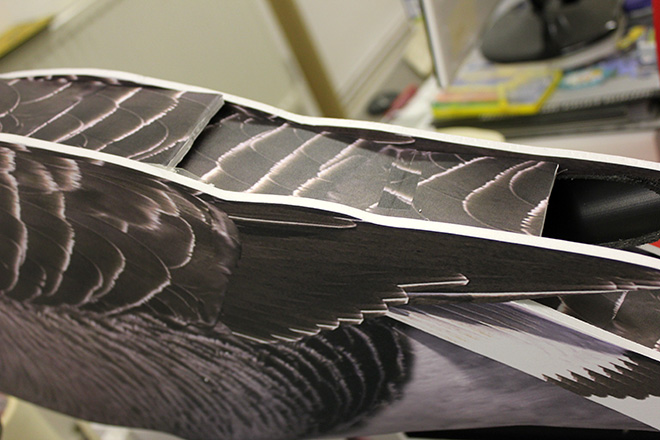 A goose isn't a goose without plumage (it actually is), so we added some cladding. Though you wouldn't know it from the photo, the plumage is just pieces of foamboard with pictures of feathers printed on it. We stuck the plumage in place with double sided tape, much like on a regular goose.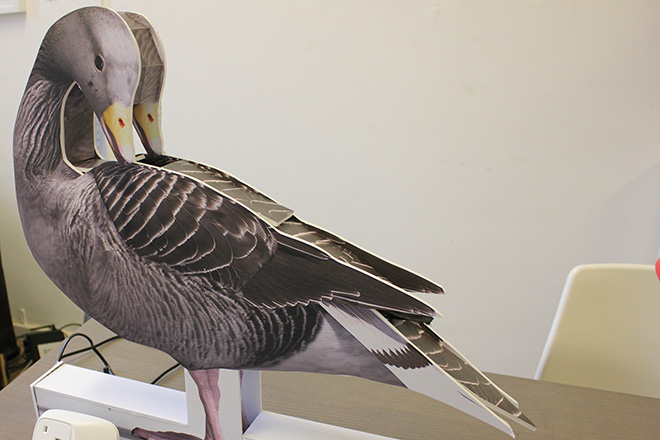 Finally we had a finished goose. Isn't she handsome!
The ping pong balls were to serve as the eggs, and we added a few feathers into the mix for a more authentic experience.
Having constructed our goose, all we had to do was coax it to lay. First, we plugged it into a WeMo switch. Then we set up a recipe on ifttt.com so that the goose would lay every time somebody uses the hashtag #DiginateGoose on twitter.
As you can see, she lays a little strong, but that's to be expected of a nice healthy goose. The eggs and feathers also shower the Diginate office, which everyone agrees is quite annoying! Success.
If you want to annoy the Diginate office and make the Diginate Goose lay just tweet the hashtag #DiginateGoose.
Merry Christmas!