We found out which Premier League manager will get sacked first
The football season kicks off again this weekend, much to the relief of everybody in the civilised world. Regular readers of the Diginate blog will know we enjoy the sound of leather on overpaid footballer's boot very much – during the World Cup we found out how much international footballers look like themselves, and predicted England matches with a crossbow.
Great management is essential to any successful organisation (just ask anyone at Diginate), so with the Premier League season (and accompanying sack race) about to get underway we thought we'd try and find out which manager loves his club most, who's going to be first to go, and who's going to play the sexiest football.
To achieve this we downloaded an app called Pictures Love Test, which uses a complex algorithm to analyse compatibility based on supplied visuals. Fortunately, Pictures Love Test is a ad-supported free app, meaning we didn't have to clear the purchase with the Diginate finance department first. Here's what we found out:
The Manager with most longetivity: Arsène Wenger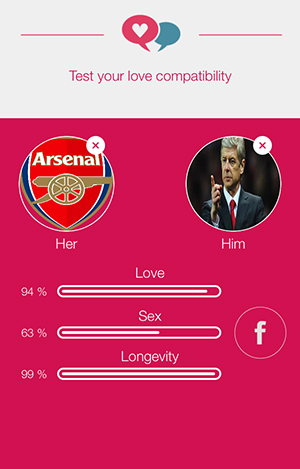 No surprises here – Arsène has already been at the helm for four thousand years and you won't be seeing the back of him this season. He's got a whole lot of love for the Gunners, and it looks like it's reciprocated.
Honorable mention: Brendan Rodgers & Steve McClaren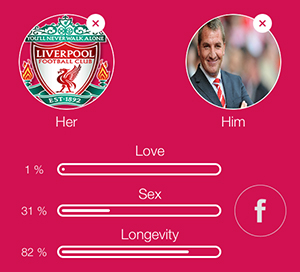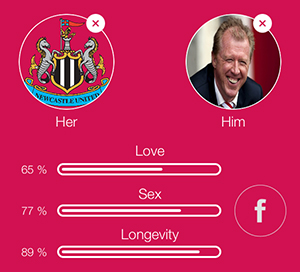 Brendan Rodgers has been at Liverpool since 2012, and his reign is set to continue, much to the delight of Liverpool fans who admire his anti-materialistic attitude to silverware. Steve McClaren is as yet unproved at Newcastle, but looks set to enjoy a fruitful time at St James' Park, or the sportsdirect.com @ St James' Park Stadium as it's better known.
First Sacking: A Manchester Manager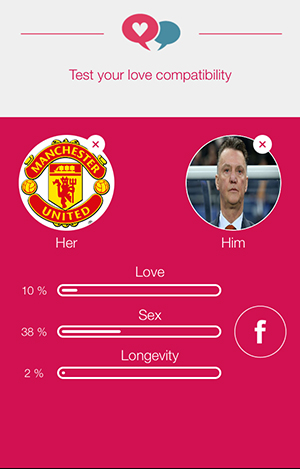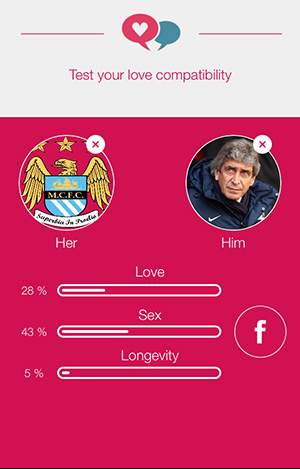 It's not looking too rosy in Manchester, with both managers facing an premature appointment at the job centre. Paul Jewell to the rescue?
Next to go? Ronald Koeman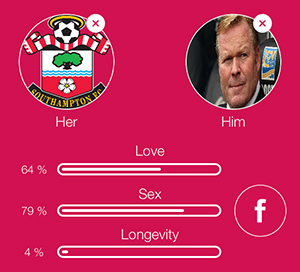 Despite a great 2014/15 season, Koeman's leadership will be on the rocks if he fails to replicate last year's success.
The manager who would die for his club: Slaven Bilić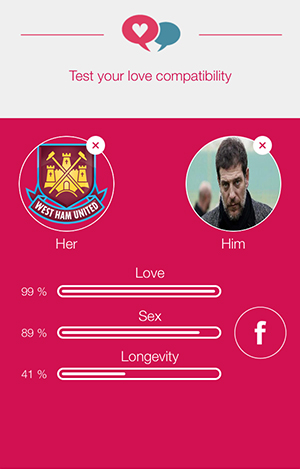 New West Ham manager Slaven Bilić has already proved his loyalty to the Hammers, turning down a big money move to Everton in 1997 whilst still a player to help guide the club to safety. His passion for the club is still fully in evidence, falling only 1% below a maximum love score.
Honorable mention: Arsène Wenger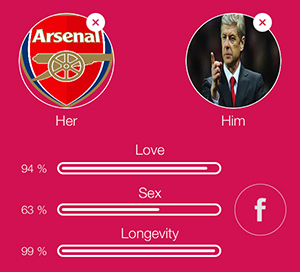 Arsene Wenger loves the club so much he changed his first name to an anagram of Arsenal upon accepting the management role in 1427. The only other historic instance of this was when Darren Bent changed his name to Darren Bent, an anagram of the pub quiz team 'Banter Nerd', whom he captained.
These managers hate their clubs: Brendan Rodgers, Louis Van Gaal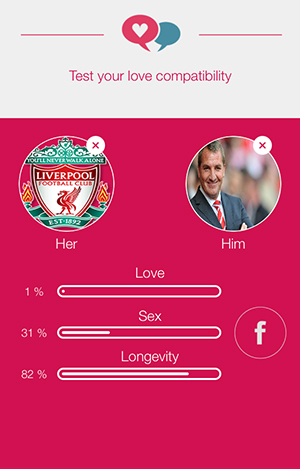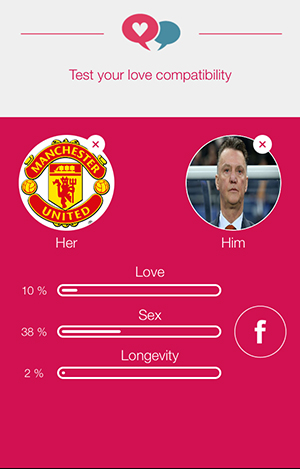 Liverpool fans may not have a lot of love for Brendan, but Brendan doubles it and gives it right back. And as for Louis Van Gaal – he'd secretly love to burn Old Trafford to the ground (probably). A job is a job though.
Dishonourable mention: Quique Flores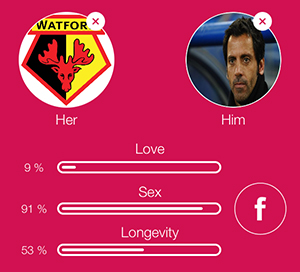 Enrique Sánchez "Quique" Flores has just moved from Madrid to Watford, which probably explains the low love score. It's a slow burner. Expect some sexy football from the Spaniard though.
Don't bother watching: West Brom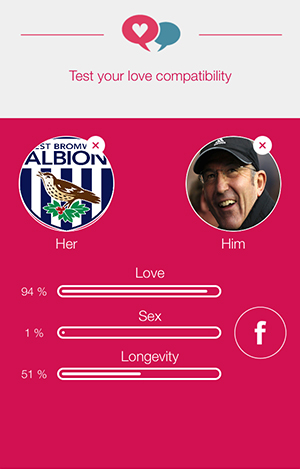 Tony Pulis may be the master of Premier League survival, but don't expect it covered in whipped cream and dispensed to a soundtrack of Barry White. There's not going to be much sexiness at the Hawthorns this season; a major departure from the liquid football Baggies fans are used to.
Here's the full set of compatibility tests for your upcoming Premier League season:
Back to Articles