Here's our 4 sticker finishing options, explained.
It can be a little confusing ordering custom stickers – many of the technical terms can vary in meaning from one printing company to another.
This is particularly the case with the various supply options available. To help avoid any confusion we've put together this quick guide to our sticker supply options!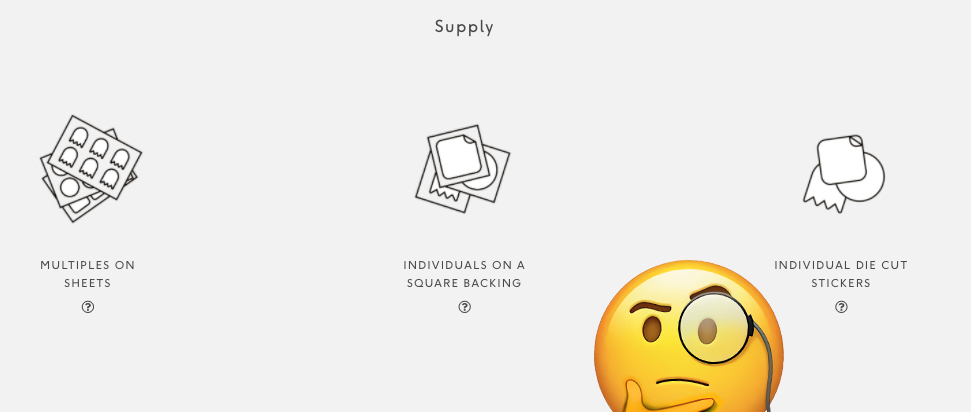 What's a supply option?
The supply option is how the finished stickers are presented to you. All our stickers start on giant rolls – we then process the roll in different ways so you end up with the format of stickers that's best for you.
Here are our four sticker supply options…
Multiples on Sheets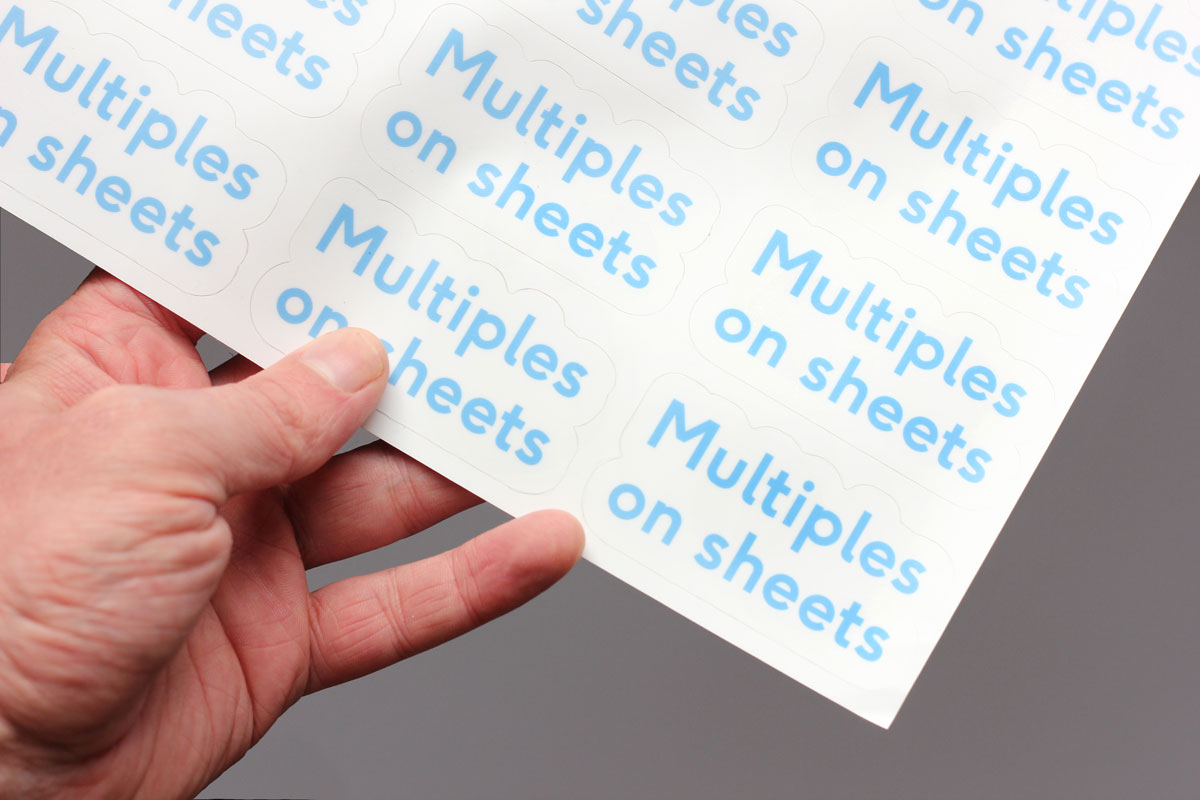 When you select Multiples on Sheets you will receive lots of identical stickers that peel off one larger backing sheet. This is great if you're the end user – i.e. you're applying the stickers to something yourself (e.g. bottles, cosmetics, boxes of frogs, etc).
We use a couple of different sheet sizes – a slightly oversized A4, slightly oversized A5, and custom sheet sizes for bigger or weirdly shaped stickers.
When you're getting a price for your Multiples on Sheets via our interactive quote form, make sure you enter the total quantity of stickers you require, not the amount of sheets (we'll calculate that later).
2. Individuals on a Square Backing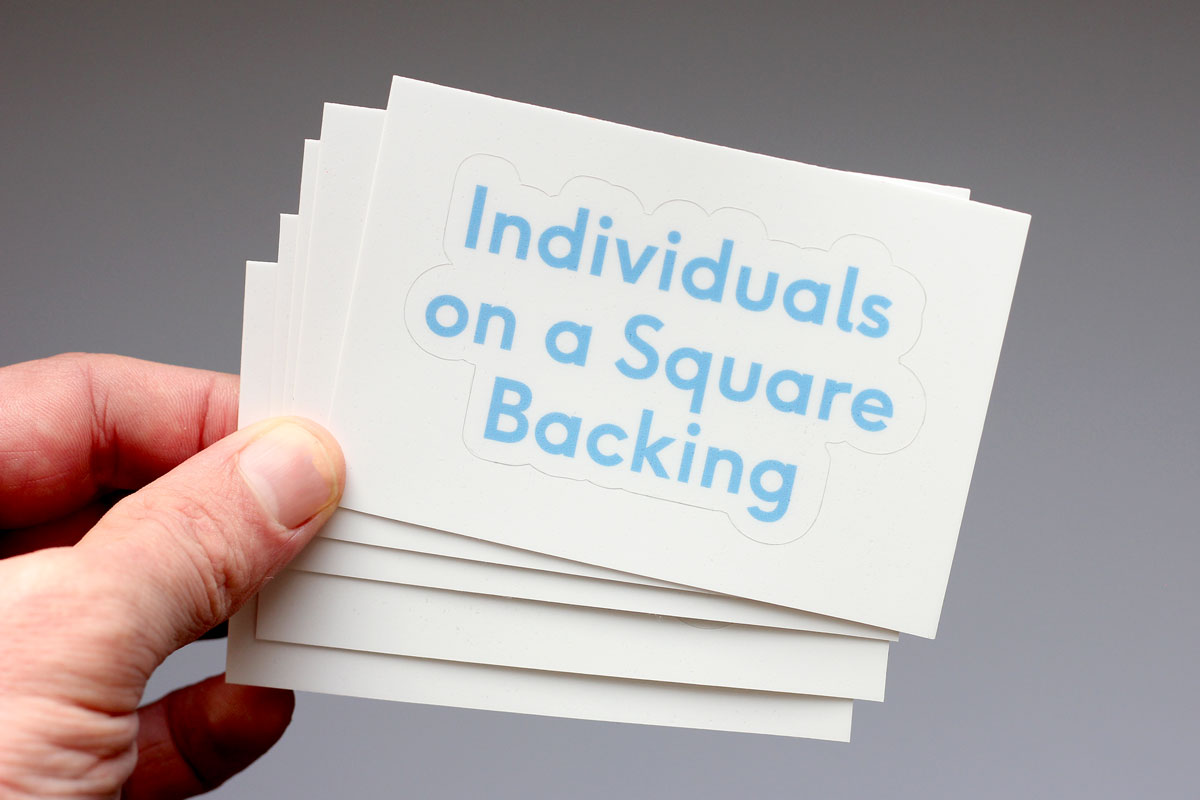 Individuals on a Square Backing have a peel-off sticker on a larger square or rectangular backing sheet. You can't add a design to the excess of the sheet (e.g. a web address) – we just take your sticker design and place it on a suitable size backing. Generally the sheets are around 7.5mm larger than the sticker itself, all the way round.
When you're getting a price for your Individuals on a Square Backing via our quote form, make sure you enter the dimensions of the sticker itself, not the overall backing sheet.

Individuals on a Square Backing are great for handing out, including in deliveries or swag bags, or improvised games of Jenga.
3. Individual Die Cut Stickers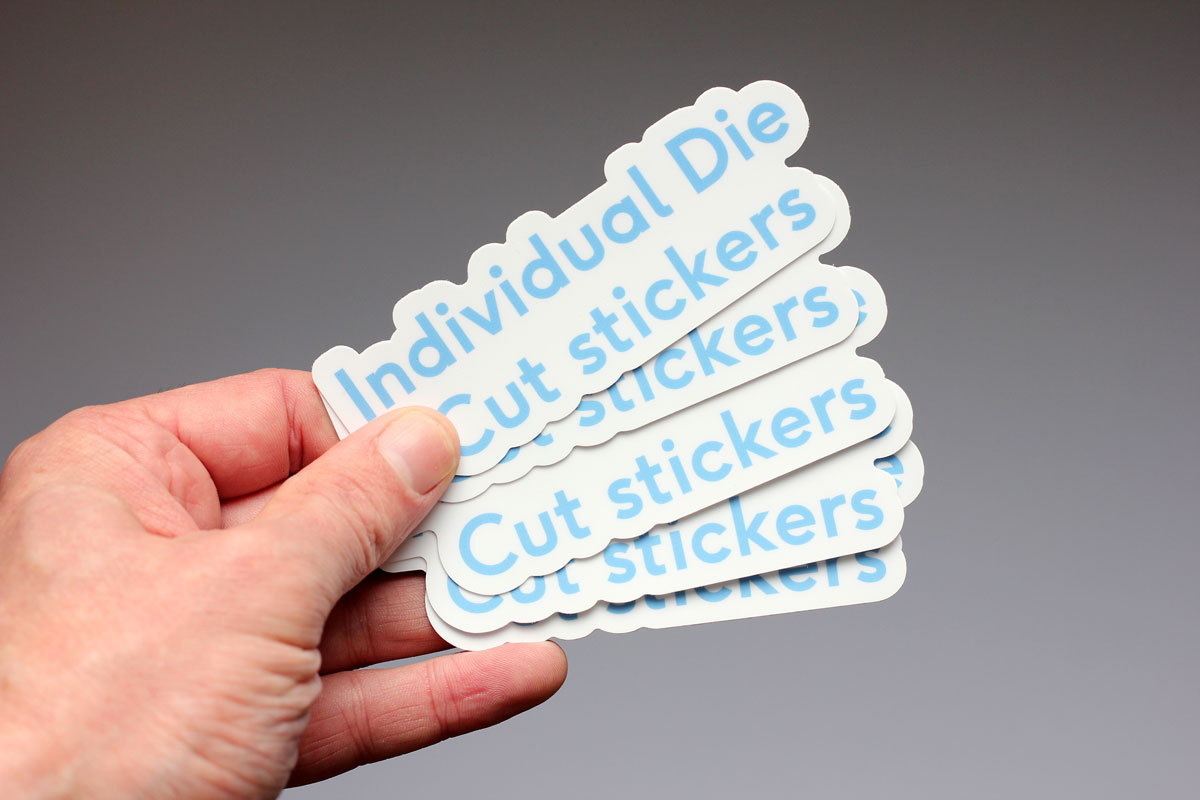 When you order Individual Die Cut stickers the adhesive sticker and backing paper will be cut to shape. We can cut any shape, although it's best to avoid super intricate designs if you can. We can also supply Individual Die Cut stickers in squares, rectangles, rounded rectangles and circles, if you prefer to keep it classic.
When you prepare your Individual Die Cut sticker artwork it's worth remembering that your sticker must be in one piece. You can include inner cuts, which may or may not be removed prior to dispatch depending on the intricacy, and the phase of the moon. Here's a useful graphic showing good and bad cutpaths for Individual Die Cut Stickers: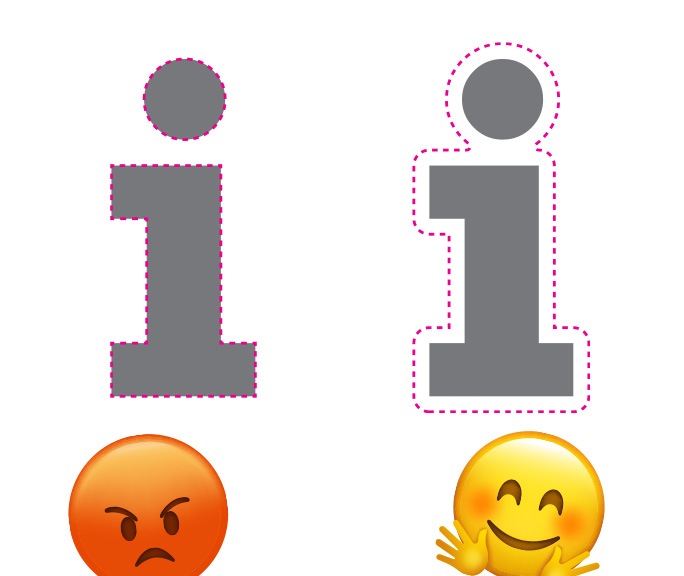 Individual Die Cut stickers are great for handing out, packing with orders, or posting to Instagram showing your awesome cutline generation skills (don't worry, we can help if you don't possess these skills).
4. Individual Sticker Sheets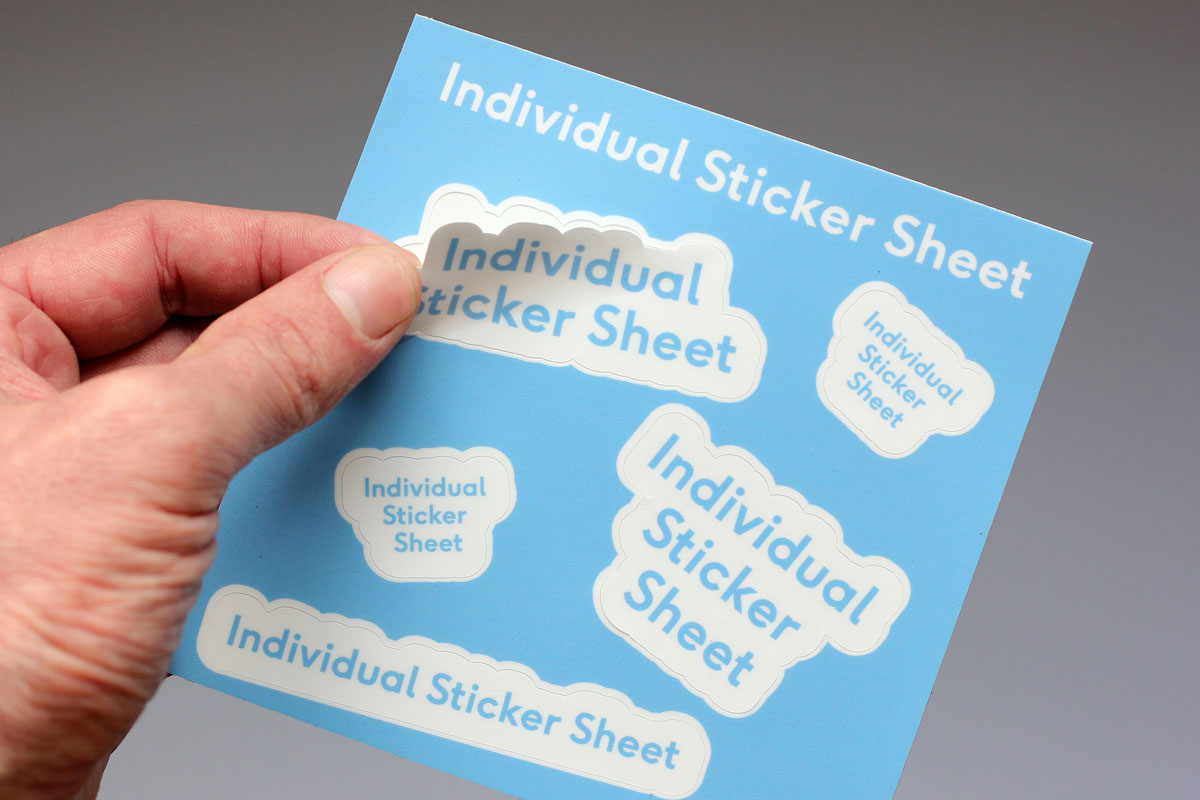 Individual Sticker Sheets are square or rectangular sticker sheets with as many peel off stickers as you like (try and keep it sensible people). One of the many really awesome things about Individual Sticker Sheets is that you can customise the entire sheet, not just the peel off stickers themselves.
When preparing your Individual Sticker Sheet artwork make sure you clearly demonstrate the cut paths for the peel-off stickers. It's important to socially distance your peel-off stickers, with at least 2mm between each one, and position them at least 2mm from the edge of the sheet so they don't get cropped.
Notice I said you can add as many peel off stickers as you like (try and keep it sensible people)? Well, that can even mean just one sticker. This way you can make a custom sticker sheet (with awesome designs or branding on the excess) but for a single sticker. Example incoming…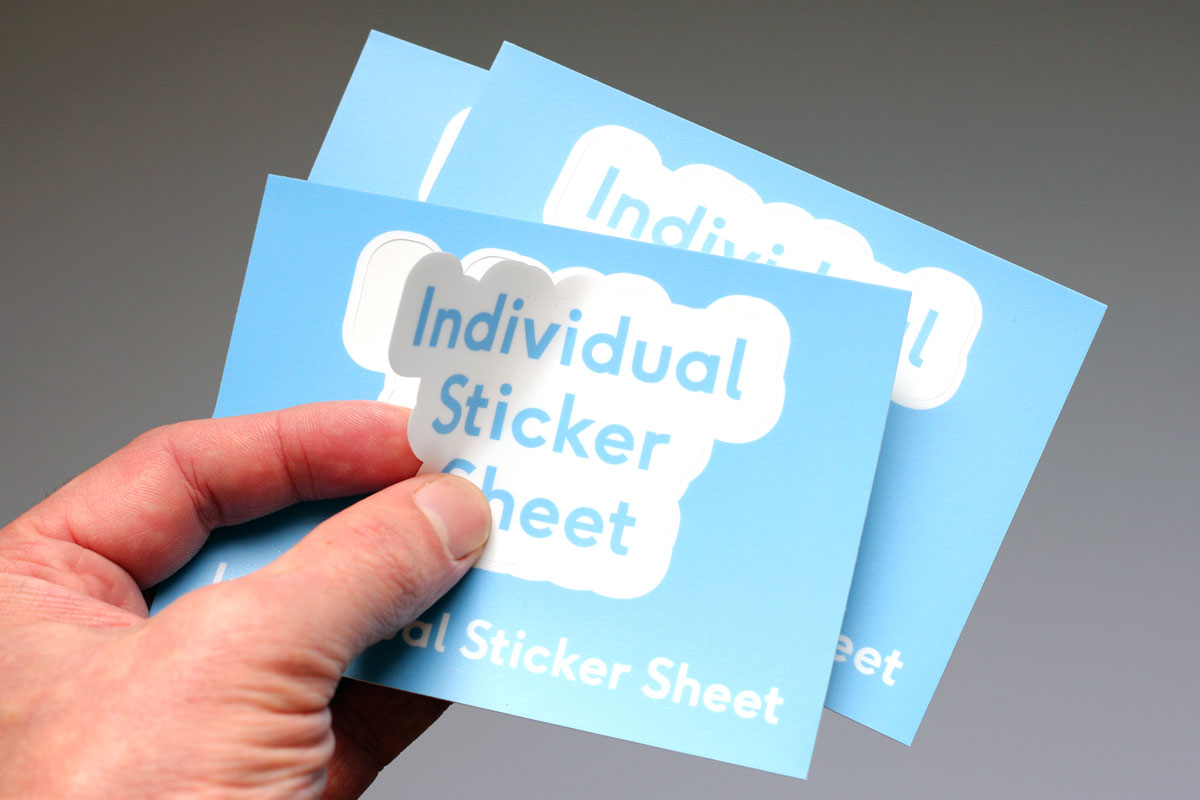 These are great for promotional use, an alternative to business cards, and a million other purposes.
When quoting for your Individual Sticker Sheets make sure you enter the overall size of the sheet, not the dimensions of the inner stickers. Individual Sticker Sheets can be unlocked by choosing the 'Multiple Shapes' option on the quote form… even if you plan to only include one peel-off sticker. Crazy right?
If have questions about any of our customisation options just get in touch via our Contact Page – we'll be happy to help.
Back to Articles