Diginate.com Blog
Win £150 of custom t-shirts from IconPrinting [guest post]
The guys at Diginate asked us at IconPrinting to write a guest blog post for them so we thought we'd summarise a couple of the most successful marketing campaigns we've come across using printed t-shirts & stickers. Hopefully this will provide some inspiration and show you the promotional potential of what these branded items can do.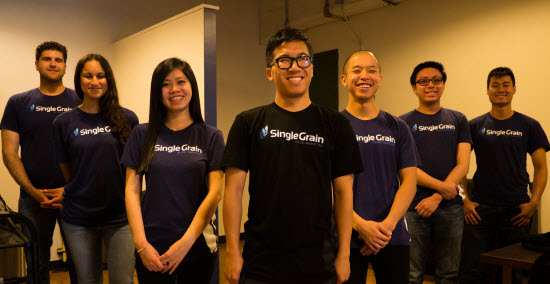 How a tech start up made $500k in revenue from giving away t-shirts
We thought that might get your attention. Founder of the digital agency Single Grain Sujan Patel shares his honest marketing accident:
"As soon as I started making money with Single Grain, one of the first things I did was to go out and get some t-shirts made.  Not because I thought it'd be some genius marketing move, but because I knew I'd be able to wear them every day and never have to go clothes shopping again."
A few too many T-shirts were printed so via a Facebook post Patel asked if anyone wanted the remaining few. He was suprised by the demand as they ran out within a number of hours. An email list was then put together of the remaining people interested. T-shirts were sent to these people along with a personalised note.
Over 500 people were now supporting their brand by wearing the T-shirts all over town allowing the shirt project and his company to start gaining some serious traction. The point is, the t-shirts were everywhere.
So how did he make $500k from this?
1) It helped him strike up business conversations. The question "What is Single Grain?" led onto client winning business pitches and he even landed a $50k customer whilst getting a massage!
2) It helped him get into larger companies. Shirts were given to friends who worked at larger companies such as Google and Apple. Their co-workers and bosses would eventually ask what Single Grain was which led to another $150k in sales.
3) It helped grow the brand recognition. Since they didnt have a marketing budget, apart from the t-shirts, nobody knew who they were at first. The t-shirts changed that and now most of their business comes from word of mouth and referrals.
Top tips taken from the success of the campaign:
Go for good quality T-shirts.
Keep your design simple – no one wants to look like a walking billboard.
And finally, stating the obvious – wear them everywhere you go.
Fancy a Coffee?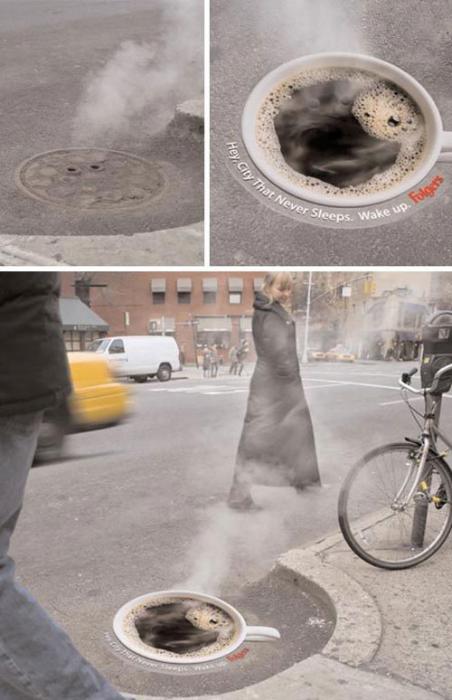 Always a pick me up in the mornings. Folgers coffee decided to wake up the streets of Manhattan with a sticker guerrilla marketing campaign. The coffee company placed giant stickers over manhole's to create the illusion of a steaming cup of coffee. Clever tactics.
This generated masses of attention from passers by who stopped to look at the sticker illusion. Now I bet that woke them up that morning.
If you're inspired by these clever marketing campaigns and you'd like to give it a try for yourself we're giving away £150 worth of free custom T-Shirts via the Diginate blog. Check out the contest below and follow Diginate & IconPrinting on Twitter to enter: