Diginate.com Blog
We've predicted the Sweden v England game so you can watch Antiques Road Trip instead
Unless you were on another planet on Monday, or simply had better things to do, you'll know that we built a machine. We then used the machine to almost 100% correctly predict the France v England game in Donetsk. Here's what we got right:
We correctly predicted the amount of England Goals (1)
We correctly predicted the England goal would be headed from a set-piece by a defender
We correctly predicted the amount of England bookings (2)
We were a mere 9mins out with our prediction of the France goat time
Still buzzing from this great initial result, we've done the same for the Sweden v England clash later on this evening. This means that you can watch Antiques Road Trip on BBC2 instead.
In order to guarantee a correct result, we decided to play the official Euro 2012 anthem, 'Endless Summer' by Oceana at top volume whilst we operated the machine. Here it is for you to enjoy at home or, should you wish to immediately terminate your employment, in the workplace:
If you need a recap of the rules check out the last blog. We required no such recap, opting instead for a group hug and a brief prayer. And got started…
Sweden Vs England – Friday 15th June, Kiev
0-10 mins YELLOW CARD – Scott Parker
England hustling midfield from the off. Some over-exuberance from Scott Parker earns him the first booking of the game.
11-20mins GOAL ENGLAND! Scorer: Leighton Baines
A surprise inclusion in the starting eleven, Baines opens his Euro 2012 account. Free kick?
21-30mins RED CARD – Sweden
Sweden are rattled by the early goal. The hotheaded Northern Europeans see red.
31-40mins SUBSTITUTION – Ashley Cole comes on to replace Glen Johnson
As England are bombarded by the 10 men of Sweden, Hodgson sensibly pulls right-back Glen Johnson off the field and adds a second left-back Ashley Cole to cope with the onslaught.
41-50mins SUBSTITUTION – John Terry comes on to replace Stuart Downing
Hodgson makes a half-time switch. Winger Stuart Downing is replaced by John Terry, further strengthening the back. Baines allocated a roaming role in reward for his early goal. The increasingly confused Swedes will do well to break through fortress England and the marauding Leighton Baines.
51-60mins YELLOW CARD – Jermaine Defoe
Increasingly isolated, the England attacker takes out some frustration on a Swedish defender, and is rewarded with a yellow.
61-70mins GOAL – Sweden
The Swedes finally break down the English defence, who, thanks to the replacement of Glen Johnson and Stuart Downing, no longer have any right sided players on the field. Perhaps this left-sided approach was ill-judged?
71-80mins INJURY – Joleon Lescott
The two rigid banks of 3 plus extra LB suffer their first casualty as Lescott is injured.
81-90mins YELLOW CARD – Steven Gerrard
The captain is booked. A limping end to an England match notable for Hodgson's eccentric tactical approach.
Here's how the England line-up looked at the start of the game: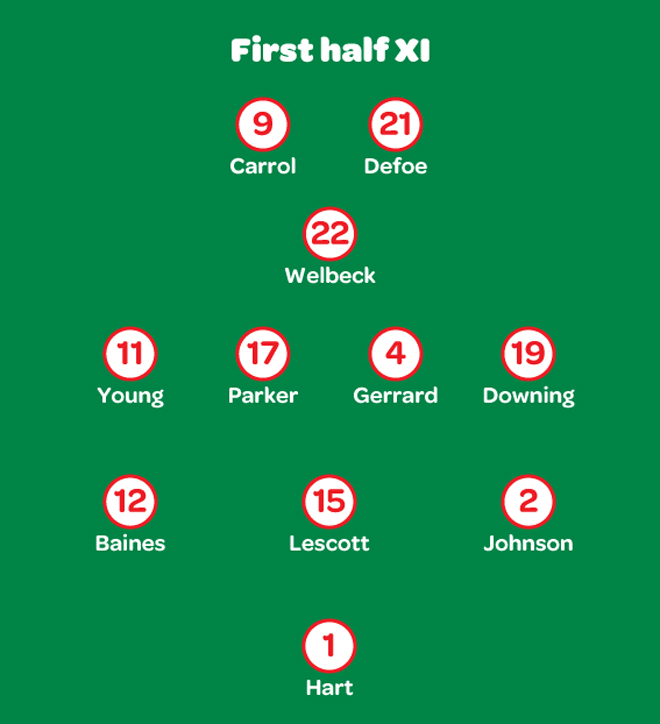 And after Hodgson's adjustments: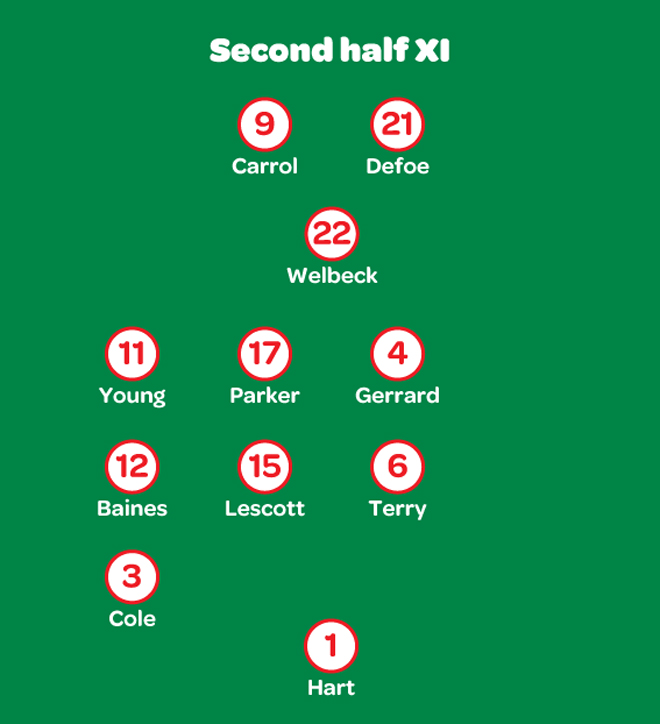 FINAL SCORE
Sweden 1 – 1 England
Glad you didn't miss Antiques Road Trip right? See you on Tuesday for the final group game against Ukraine.