Diginate.com Blog
We've predicted the France match so you don't have to watch it
Finally the European Championships have arrived, and we're enjoying every minute of it. Until tonight, of course, when England kick off their campaign against France in Donetsk.
Obviously we could never advocate actually watching an England game. That would be sheer madness. What we have done, however, is devised and constructed a complex machine for predicting not only the score, but any major match incidents, so you don't have to bother watching the game, or even checking the score on teletext.
First off, we designed a gameboard featuring the entire England Squad. Diginate Jon used a computer for this. We then collated a list of likely events, including goals, injuries, bookings and substitutions.
We then printed it on a Diginate matt vinyl sticker. Here it is: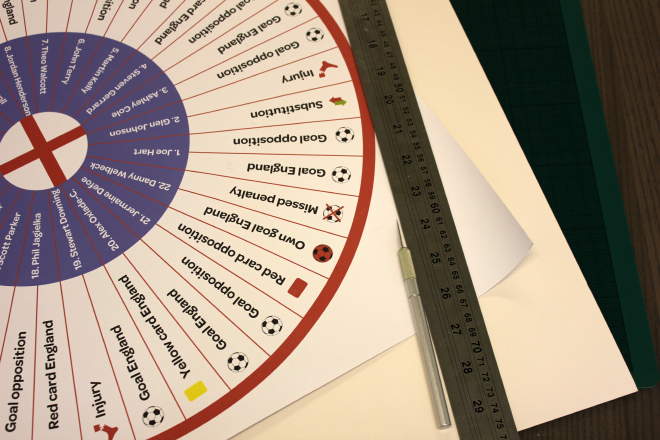 Next we applied the sticker to some mountboard and trimmed it up.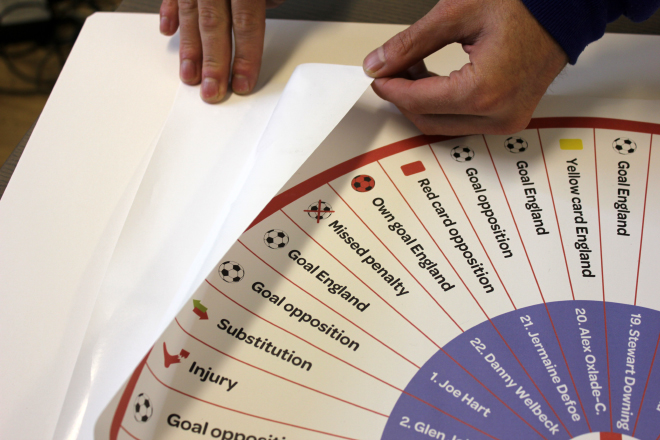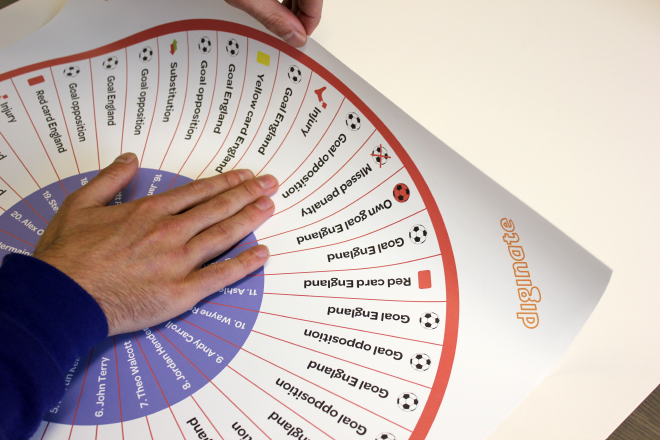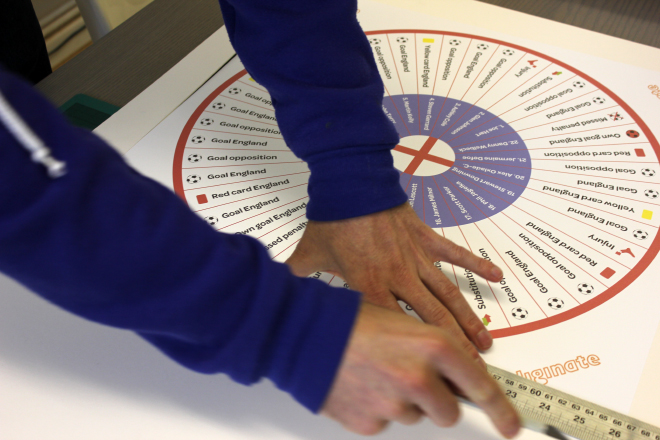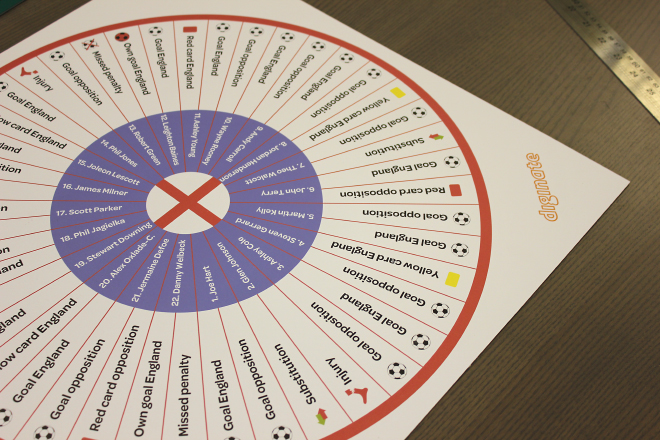 To make the spinner we pushed a pin through the board, and made a pointer out of some clock hands.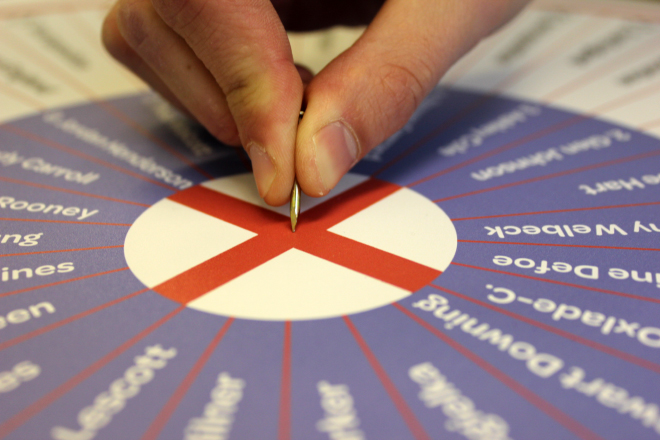 And our board was finished.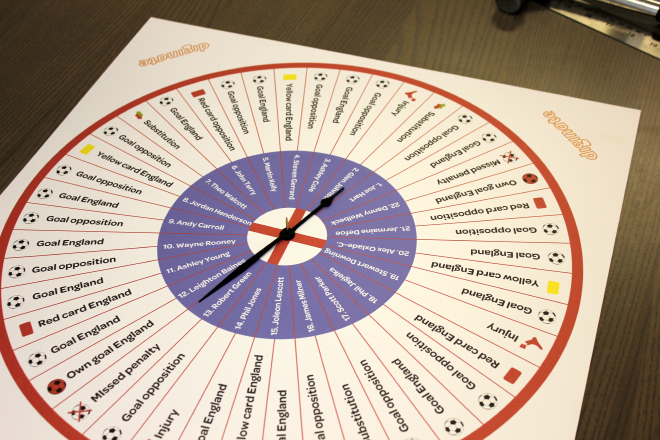 With the prediction machine ready, we assembled together like a group of England players in A&E. Doors were locked, lighting dimmed, we threw some Enya on the Diginate stereo and got spinning.
Here's how it works:
The spinner is spun to determine an 'event' using the outer rim of the circle. If the resulting event involves an England player (e.g. England Goal / Injury) we spin again to find the culprit within the inner circle.
We perform this 9 times, to find out EXACTLY what's going to happen during each 10 minute segment of the game.
Here are the results:
France Vs England – Monday 11th June, Donetsk
0-10 mins GOAL – ENGLAND! Scorer: Ashley Cole.
England are straight out of the blocks with this early Cole Goal. We're guessing headed goal from a set-piece.
11-20mins SUBSTITUTION: Jermaine Defoe comes on to replace Phil Jones.
England can smell blood, and have brought on Jermaine Defoe to capitalise on their early lead. A Hodgson tactical masterstroke.
21-30mins GOAL – FRANCE
Replacing defensive Jones with impact striker Defoe has backfired immediately as France draw level.
31-40mins INJURY – Ashley Young
Knock for Ashley Young but Hodgson determined to persevere, keeping the hungry young winger on the field.
41-50mins GOAL – FRANCE
England punished again as France surge into the lead. England outnumbered at the back as Hodgson sticks firmly to his attacking set-up.
51mins-60mins YELLOW CARD – Phil Jagielka
Who knows, this little trip at the back may have prevented a third.
61mins-70mins YELLOW CARD – Ashley Cole
Frustration starting to bubble through in the English defence, as goalscorer Cole receives a booking.
71mins-80mins GOAL – FRANCE
That's the third – this is starting to look like a mauling.
81mins-90mins GOAL – FRANCE
And a fourth. England a shambles at the back. Hodgson, head in hands, has much work to do before Friday's clash with Sweden.
FINAL SCORE
France 4 – 1 England
Glad you didn't watch it right? Check in on Friday as we predict the Sweden match.