Diginate.com Blog
If you've landed on Diginate this morning you may notice things are a little different! Yes, we've lost weight and got a new haircut, but the changes are more than just skin deep. We've been working hard on the user experience, and think you're going to like what we've come up with.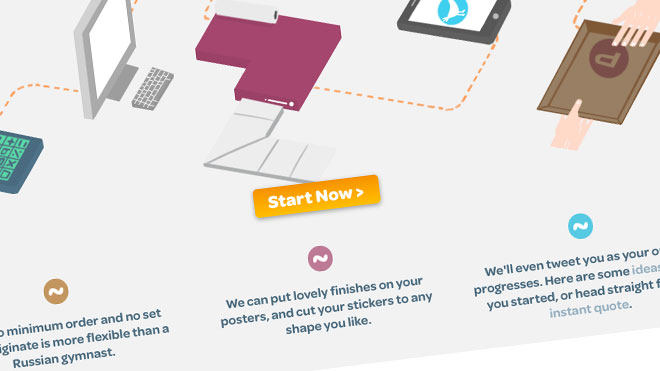 Simplified product selection
We've narrowed our offerings down to six product options; Vinyl Stickers, Metallic Stickers, Window Stickers, Self-Cling Stickers, Posters and Art Paper. This means finding the product you need is a walk in the park. Once you've selected your product you can explore the options available – for example, matt, satin or gloss finishes for posters, or spot gloss varnishes on your stickers.

Mix 'n match quoting
We've compressed the entire instant quoting system onto one friendly mix 'n match page. Choose your product, select your options, enter the size and quantity and you're away. Tweaking and adjusting your quote to get exactly what you need is easy. For example switch between Window Stickers and Self-cling stickers with a click.
Since many of you need to get quotes approved, or need to compare against other suppliers we've added the ability to send the quote through to your email inbox. Once you're ready to proceed it's one click to resume where you left off.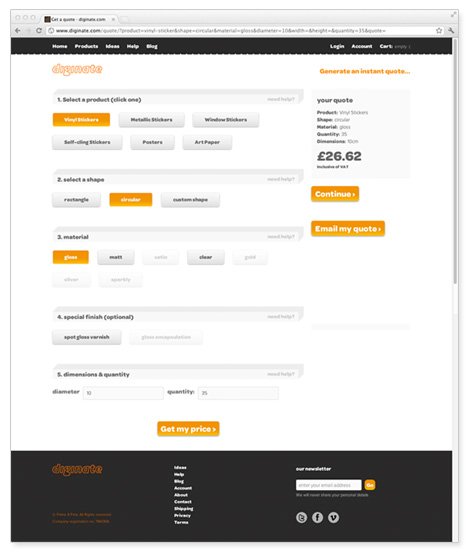 Ideas and inspiration
Since we launched the first incarnation of Diginate we've been amazed by the creativity of our users, and the diversity of projects which use our products. We've sent stickers in the space, branded racing mowers, labelled England's water bottles for the World Cup, and provided targets for the innovative world of urinal gaming.
The Ideas and inspiration page provides a way to show off your project to the world, and explore what other people are doing with Diginate products.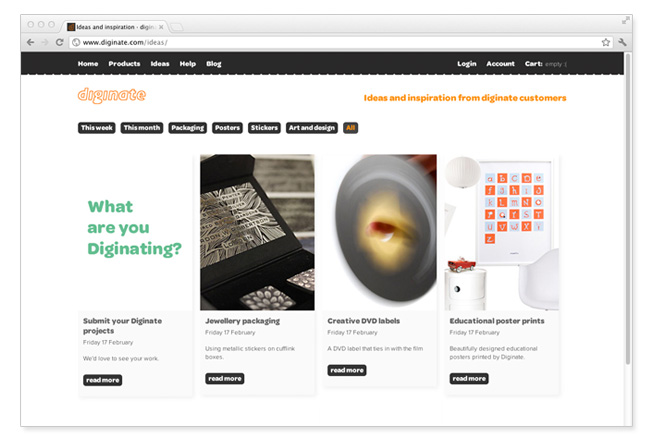 If you'd like to showcase your work check out the submission page!
Try out the new Diginate and get 15% off
Simply use the code MIXNMATCH at the checkout and 15% will be magically deducted from your bill. Why not give us a try today?
Hope you enjoy using the new Diginate site. As ever, let us know your feedback via our Twitter and Facebook pages. We'd love to know what you think!