Diginate.com Blog
We predicted the Costa Rica-England game by throwing eggs and tomatoes
After another (almost) correct prediction there is only one more game left of the group stage, and only one more game for England in this World Cup: Costa Rica vs England.

What a disappointing game that was for England. We already knew Uruguay would win of course so we didn't have to watch it. Our prediction was 3-1 to Uruguay, but thankfully they were kind enough to stop after 2 goals. We also correctly predicted that England would get one yellow card and that they would give the ball away quite a lot.
Since Italy managed to lose against Costa Rica on Friday, England are out of the World Cup. There's really no point in watching the game, so why not just read our prediction and watch something more enjoyable, like the entire first series of 'Noel's House Party' on VHS.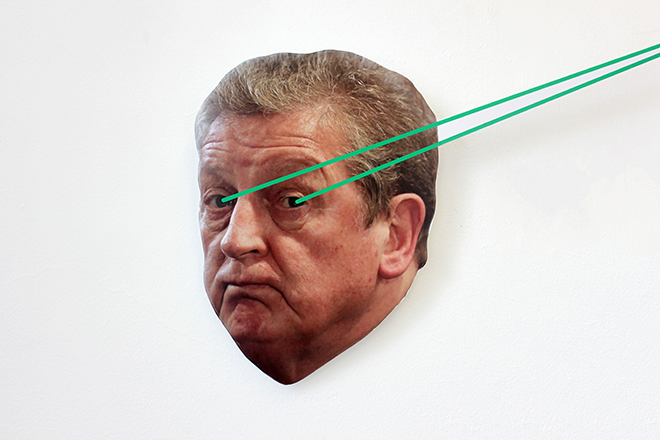 Roy has given up at this point. Looks like he is getting a bit of a sunburn as well. He probably fell asleep in the sun when he should have been planning tactics and setting up a proper team for the Uruguay game.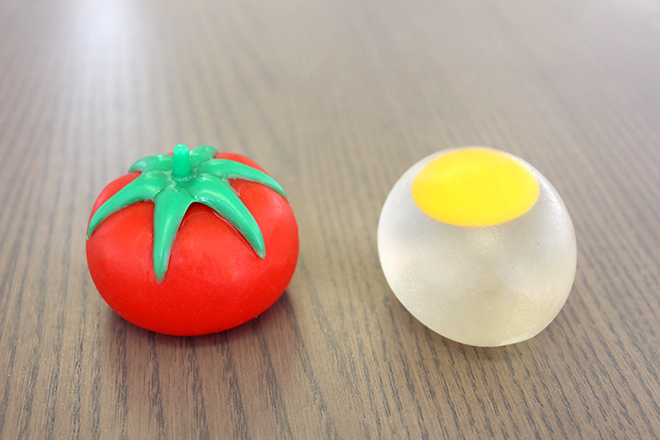 Inspired by England's terrible performance in this tournament, we felt like throwing some tomatoes and eggs. Since the England players are still in Brazil (though not for long!), we decided to throw them around the office. We got hold of some great Costa Rican tomatoes and English eggs and threw them around a bit to see if we could get a good prediction. It got really messy so we bought these splat toys instead.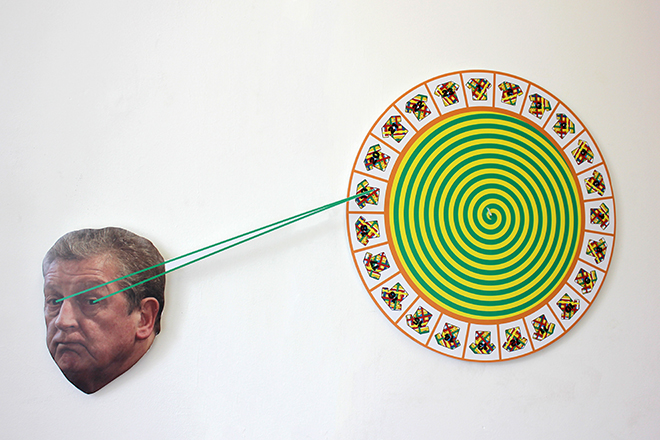 A quick recap about the rules:
Player 1 spins the spinner to select a player
An egg or a tomato is thrown at the board to determine a match event (e.g. yellow card / chance)
An egg/tomato is thrown at the goal or the giant player to determine the success of a chance, or location of an injury
Player 2 takes their turn
This time the match lasts the duration of Trains To Brazil by Guillemots.
Costa Rica vs England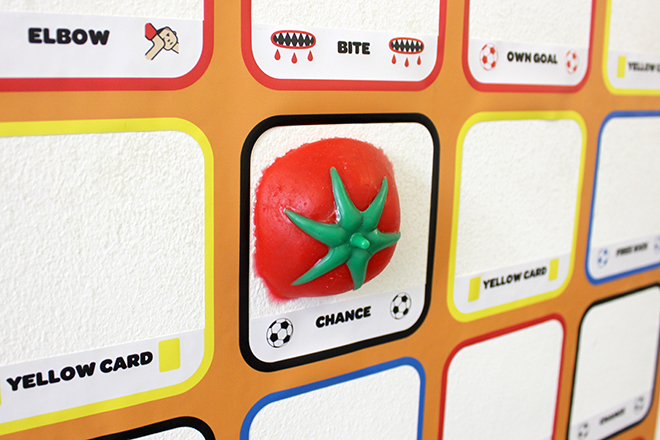 Chance for Costa Rica
Costa Rica kick off and after some neat passing they get a corner kick. Costa Rica have already qualified for the next round, but they are really going for it here as Keylor Navas, the Costa Rican goalkeeper, comes up for the corner. He gets his head to it, but it's saved by Ben Foster.
Dive by England
Foster immediately throws the ball to Chris Smalling who runs towards the goal. Costa Rica's keeper sprints back and tackles Smalling. Smalling goes down, but the referee is not convinced. He tells him to get to his feet and replays show there was no contact between the players. Good call by the referee.
Yellow card to Costa Rica
England are getting ready to take the free kick, but Yeltsin Tejeda kicks the ball away. The first yellow card of the game.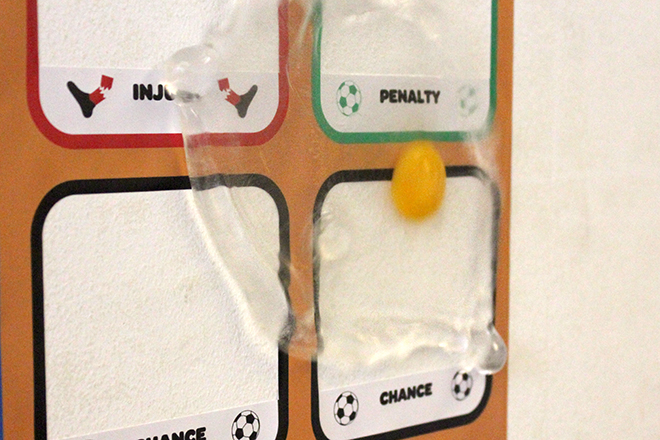 Chance for England
England take the free kick and the ball ends up with Adam Lallana. He goes past a couple of defenders and gets a shot away. It flies past the goalkeeper and just over the bar. That was a good chance for England.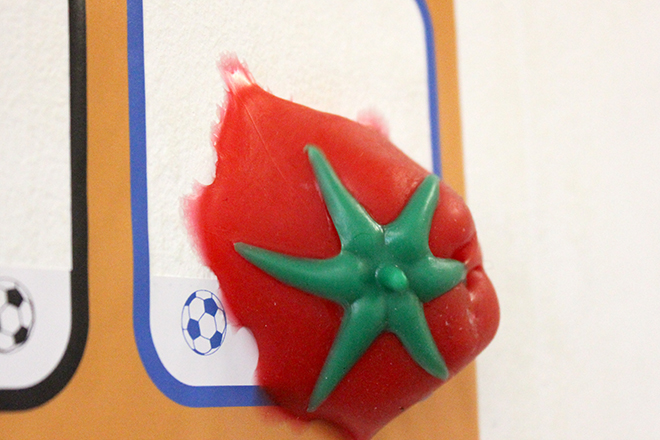 Free kick to Costa Rica
Costa Rica get a free kick in a dangerous position after Joel Campbell is brought down outside the penalty area. He takes it himself, but puts it wide of the goal.
Free kick to England
England get a free kick in a good position and Alex Oxlade-Chamberlain, a surprise inclusion in the starting XI, gets ready to take it. He bends the ball over the wall and hits the bar. What a chance!
Injury for Costa Rica
The ball comes down in the penalty area and Costa Rica attempt to clear it. There is a clash of heads and David Myrie has to come off. Christian Bolaños replaces him.
Half time: Costa Rica 0 – 0 England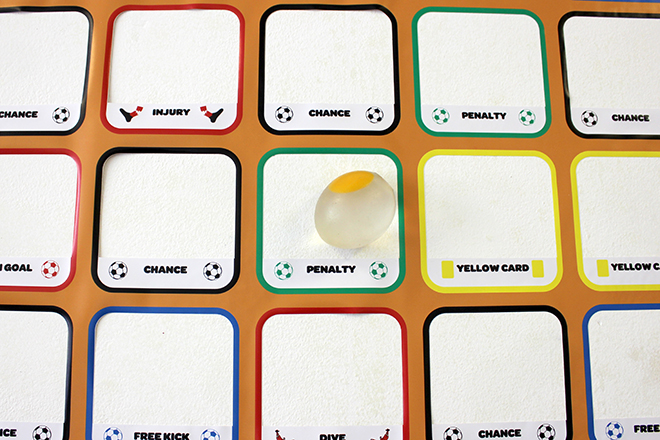 Penalty for England
England kick off and go on the attack immediately. Wayne Rooney is brought down in the area and the referee points to the penalty spot. The Costa Rica players are furious and surround the referee. Diego Calvo gets a yellow card. Rooney takes the penalty, but puts it wide of the goal.
Chance for Costa Rica
Costa Rica gets a corner and after an initial clearance the ball comes to Michael Umaña. He has a pop, but the ball sails over the bar.
Free kick to England
England get another free kick in a good area. Chris Smalling takes it this time. He gets it around the wall, but straight at the goalkeeper.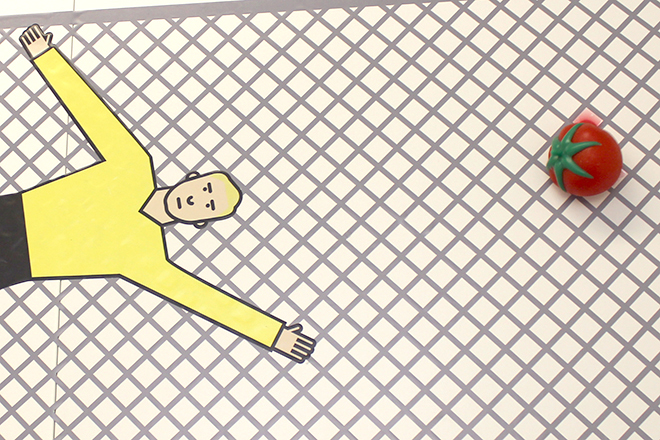 GOAL for Costa Rica!
There's not much time left when the deadlock is finally broken. After some great play from Costa Rica, the ball comes to Michael Umaña again. He has another attempt and this time it goes in. The shot is great and Ben Foster has no chance. 1–0 to Costa Rica!
Injury for England
Jack Wilshere tries to set up an attack, but collides with a Costa Rican player. He stays down clutching his stomach. After receiving some treatment he is replaced by Glen Johnson.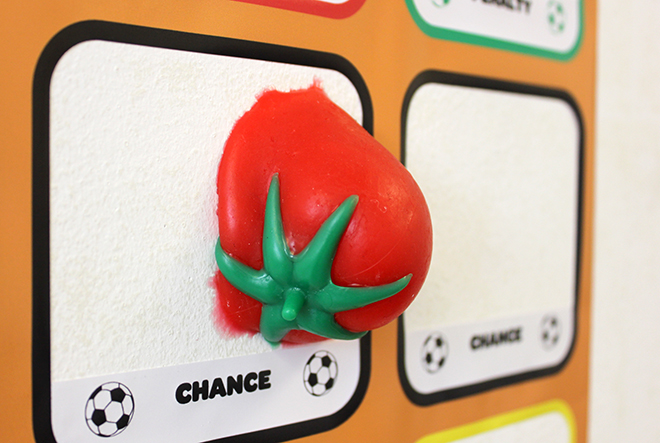 GOAL for Costa Rica!
England's misery continues as Costa Rica scores again. Johnny Acosta gets a free header after a good Costa Rican corner kick. He makes no mistake and heads down into the corner. No chance for Foster, but England's defending was not the greatest. There is only a few minutes left and surely it's too late for England to get anything from this game.
Groin grab!
The England players are very frustrated and Rickie Lambert can't contain himself. There's another corner kick and one of the Costa Rican defenders goes down after Rickie Lambert backs into him. The referee tells him to get to his feet, but the replays shows that Lambert hit him in the groin. He is lucky not be sent off. The referee blows the whistle for full time a few seconds later.
Full time: Costa Rica 2 – 0 England
What a disappointing tournament for England. After a decent game against Italy, despite the loss, their performances have only got worse. They lost all their three games and only managed to score two goals in the process. A lot of improvement is needed if they are going to have any success in Euro 2106. We'll fine tune our prediction instruments for that one – maybe that will help!