Diginate.com Blog
Love Outdoor Play – stickering the way to happier communities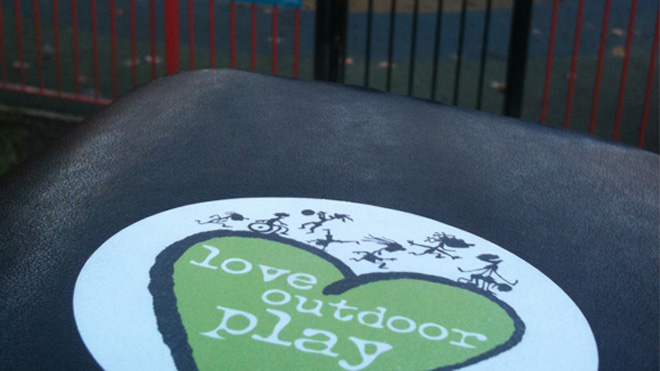 How to use stickers, social media and crowd funding to get kids playing outdoors again? It wasn't something we'd considered until Daniel Raven-Ellison got in touch with the idea for his Love Outdoor Play project; a very modern form of community activism.
The motivation for the campaign is simple – getting children out of the house and playing outside in streets, parks and playgrounds again. "Having the freedom to play outdoors improves the well-being of children and their communities," says campaign organiser Raven-Ellison. So how did stickers become the centrepiece of the campaign? "We are asking people to take a very simple action. Make or get a Love Outdoor Play sticker and put it up where you live or work. Research shows that in many communities we're afraid of what other parents will think of us if we let our kids out to play or walk to school. By putting a sticker up you not only show that you support outdoor play but can start a conversation about how play can be improved for children where you live".
With the concept in place the project organisers looked at the best ways to buy the stickers. Group buying is big news right now, with community discounts website Groupon at the receiving end of a $5.3bn bid from Google; Love Outdoor Play opted for a similar approach with their community print run. Supporters of the campaign can 'invest' in the print run; Love Outdoor play will then combine the donations, order as many stickers as possible in bulk at a lower cost, and distribute the stickers proportionately to the donation. The more people donate, the lower the print cost, and the more stickers everyone gets. Those wishing to opt out of the community print run can order individual stickers, or print them themselves.
As with so much modern activism, the final piece of the puzzle is social media. Having recruited over 70 high profile supporters including respected authors, charities and explorers, Love Outdoor Play hit Twitter to broadcast the message and solicit involvement from the grassroots communities it was designed for. With over 400 followers and an active online presence the campaign is all going to plan.
The ultimate aim of the project? "For every family with young children in the UK to recognise the symbol and many to have it on their street in one form or another".
If you'd like to get involved in Love Ourdoor Play's next community print run or obtain high res images to print yourself click here for more info.
You can get involved at twitter.com/LoveOutdoorPlay