Diginate.com Blog
How much do World Cup Footballers look like themselves? We found out.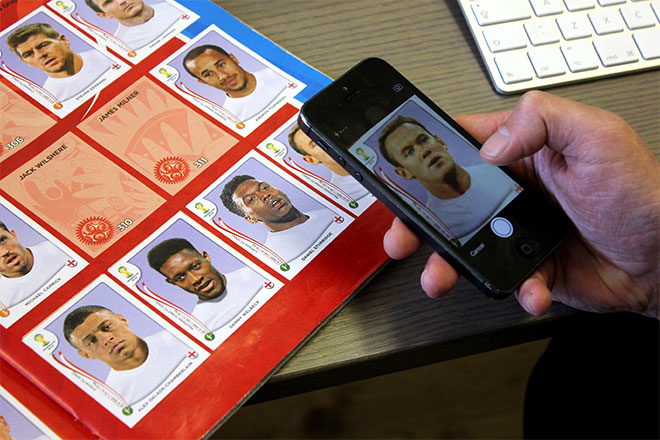 Have you ever wondered how much famous footballers look like themselves? Here at Diginate HQ we often wonder this, so armed with a half completed Panini World Cup 2014 sticker album and a couple of iPhone celebrity facematch apps we set out to answer this question once and for all.
Equipment required:
Half completed Panini World Cup 2014 Sticker Album (completed sticker album also fine)
A couple of iPhone celebrity facematch apps.
As everyone wants England to win the World Cup (even people from other countries secretly want England to win the World Cup) we thought we'd start with the Three Lions.
Wayne Rooney
English Footballers don't get much more famous, distinctive and downright sexy than Wayne Rooney. The Roonster. So we fired up the MyCeleb app just to double check he still looks like Wayne Rooney.
We photographed Rooney's sticker likeness (Sticker no. 316) from within the app. MyCeleb has a super-cool green laser which scanned Wayne Rooney's face for several seconds to ensure a super-accurate match. After a few moments the results came in: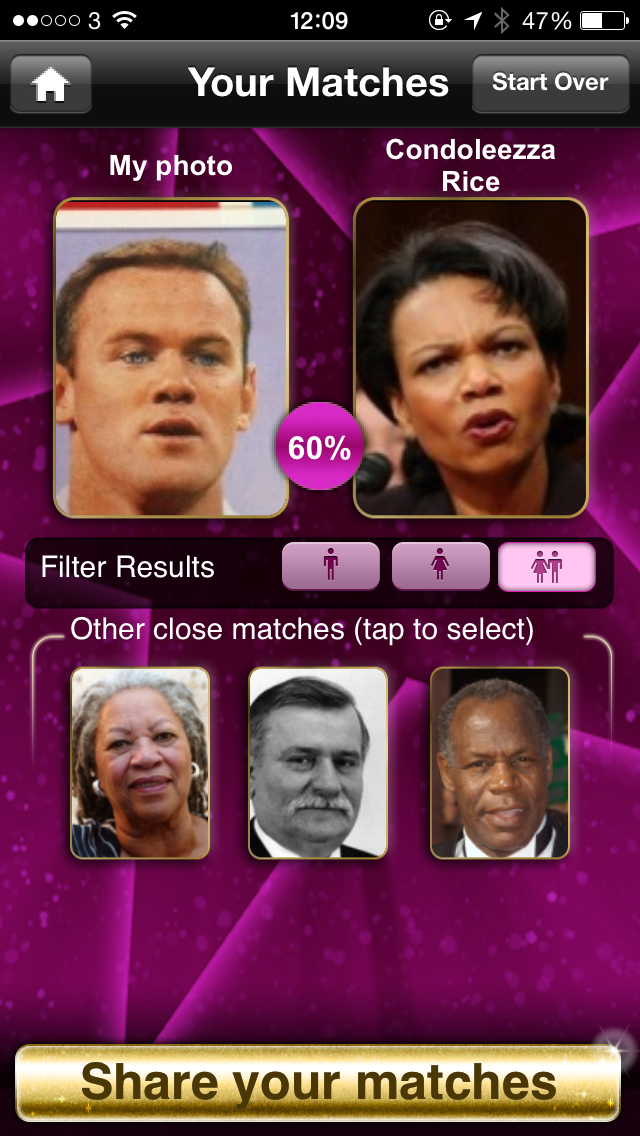 As it turns out Wayne Rooney doesn't really look like Wayne Rooney at all, but actually quite a lot like former US Secretary of State Condoleezza Rice. Separated at birth. It's nice to know that if the kick ball doesn't work out for our Wayne he can pursue a career as a Condoleezza Rice impersonator.
He also looks quite similar to novelist Toni Morrison, actor Danny Glover and Polish politician Lech Walesa, a figure we're doubtless all familiar with.
Frank Lampard
Frank Lampard has recently handed in his notice at Chelsea, so let's see if he'll be recognised as Frank Lampard at his new club. Once again, the MyCeleb laser whirs into life:
Great news, Frank Lampard looks like Frank Lampard! 66% like Frank Lampard!
Steven Gerrard
Let's give Stevie G a go. Awesome green laser meet Stevie G, Stevie G meet awesome green laser:
The laser really took it's time on Stevie G. But again gets it right:
Interestingly, Steven Gerrard looks 75% like Steven Gerrard, but has also bears more than passing resemblance to Pope John Paul II (52%). I guess that's where the nickname Venerable Gerrard comes from.
Danny Welbeck
Last up for England is Danny Welbeck…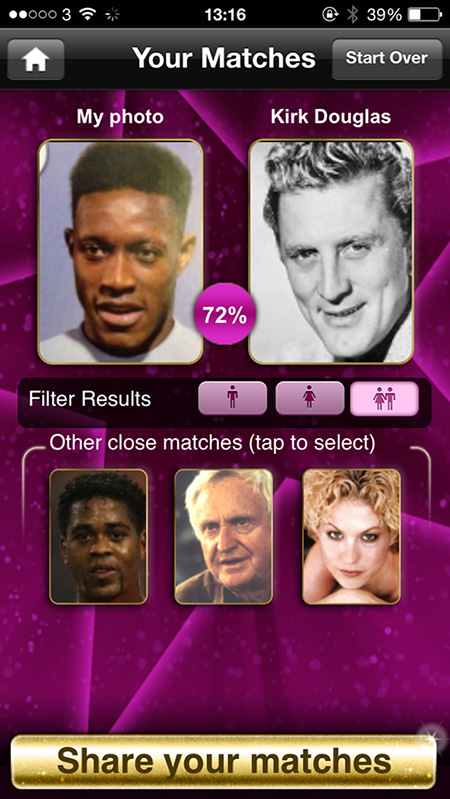 Danny Welbeck really does look quite a lot like legendary American actor Kirk Douglas. In fact, at a 72% match, Danny Welbeck looks more like Kirk Douglas than Frank Lampard looks like Frank Lampard.
Fun Facts: Kirk Douglas is now 97 years old, and Danny Welbeck is 1.83m in height.
MyCeleb also correctly indicates that Danny Welbeck looks strikingly similar to actor Jenna Elfman.
Lionel Messi
In the interest of neutrality, science, astronomy etc we decided to give another rival facematch app a go. Lionel Messi, meet Face Compare. Face Compare requires a whole lot of direction but remember, we're going for super-accurate matches here.
Lionel Messi's Panini sticker image looks like Lionel Messi trying to figure out which celebrity he looks most like.
Face Compare takes comparison seriously. It takes quite a long time to go through a database of all the celebrities…
After we'd watched Apocalypse Now (Redux) the verdict came in: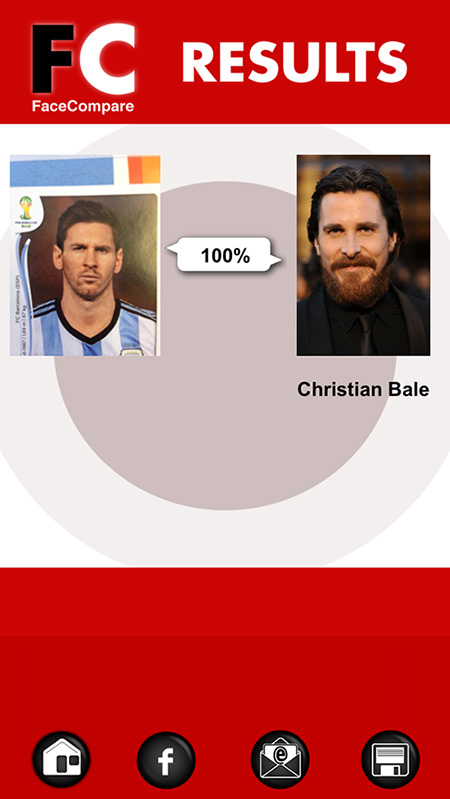 Great news! Lionel Messi looks *identical* to Christian Bale. 100% the same. They're the same person. The sticker image is not Lionel Messi trying to figure out which celebrity he looks most like, it's Christian Bale trying to figure out why he's playing up front for Argentina.
Let's see if MyCeleb agrees…
Scanny scanny with the awesome green laser.
CONFLICT! MyCeleb has detected Lionel Messi's resemblance to Spanish anarcho-syndicalist militant Buenaventura Durutti. At least if it doesn't work out for Lionel with the soccer playing he can forge a living as a Buenaventura Durutti impersonator at parties.
Messi is also strikingly similar in appearance to English ex-footballer Michael Owen, which is probably where his nickname 'The Argentinean Michael Owen' comes from.
So there you have it. Never identify a footballer by their appearance as it's more likely to be an actor, polish politician or Spanish anarcho-syndicalist militant.