Diginate.com Blog
Get organised with Diginate image tagging
A feature of the new Diginate site which you may not have noticed is image tagging. Small as it may be, we thought this feature deserves a little blog post in it's honour. Image tagging is pretty handy, especially if you repeat order from Diginate.
There's two ways you can take access the image tagging feature. First off, when you upload an image for the first time:

We cannot produce image previews of certain formats (e.g. Illustrator files), so add a tag instead describing the image (e.g. "seascape"). That way when you go to reorder the print in the future you know you have the right image without having to download and check. For illustrators, artists and photographers who have a number of different images which they print to order this is really useful.
Secondly, organise your previous images. From the order history section of your account you can retrospectively add image tags to previous orders. Next time you come to reorder you'll find the image you want right away.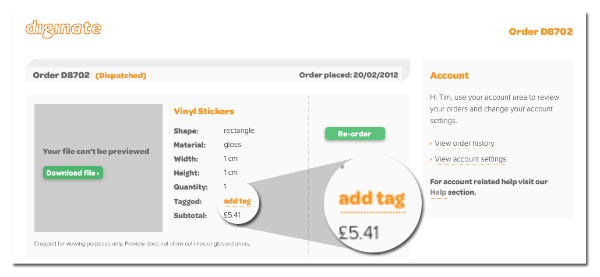 This feature is also useful if you have a number of similar designs with small variations in size, shape or text content. For example, you may run a cafe and use small stickers to brand cups, larger stickers to seal takeaway boxes, and window stickers for promotional use. The designs may be the same but you can add the tags 'cup stickers', 'box stickers' and 'promo stickers' to the images so it's easy to reorder the right item.
Happy tagging!