Diginate.com Blog
DIY XMAS – Personalised Olive Oil Infusions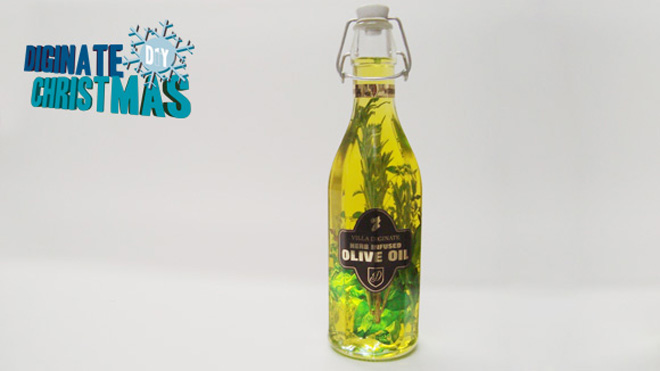 How about an idea for that cooking enthusiast you have no idea what to buy for? Homemade olive oil and vinegar!
It's pretty easy to make your own herb-infused Olive oil; there are recipes all over the net. Here we're going to share our favourite. With Diginate.com you can personalise the oil bottle to your gift recipient!
Here's what you need:
Some cool oil bottles, we got ours from here. You'll need about a 12 ounce bottle for the ingredients we have here.
Some Diginate labels – designed on your own software or using our online designer.
And for the oil:
6 leaves fresh basil
2 sprigs fresh thyme
2 sprigs fresh rosemary
2 sprigs fresh oregano
1 1/2 cups extra virgin olive oil
a small funnel
So, I guess we need to be responsible and suggest you wash your hands before handling any raw materials, but now that's out the way we can get designing!
The oil doesn't last long, so don't start making the oil until you're ready to give it to your recipient, make sure you order your labels from Diginate.com well in advance!
Firstly, you'll need to order your bottles, we got ours from jamjarshop.com, but wherever you get yours from, you need to wait to receive them before starting to make your labels as you'll need to measure how big your label needs to be.
Once you've got your measurements, you need to design those labels. You can use your own software package or head over to our online designer to help you out. We're going to create an Italian style Diginate branded label: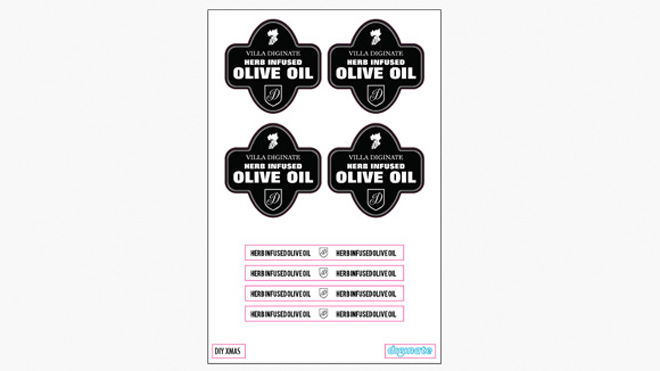 Place your order and wait by the door for your labels to arrive – remember, you can order just the one if you're only making the one bottle, but it might be safer to order a couple in case you miss the bottle the first time!
When your labels arrive and it's time to make your oil, it's really really simple. You can apply your label before or after adding the oil; just make sure the bottle is completely clean.
Here's the finished sticker sheet. We've used Contour Cut Metallic Gold Stickers.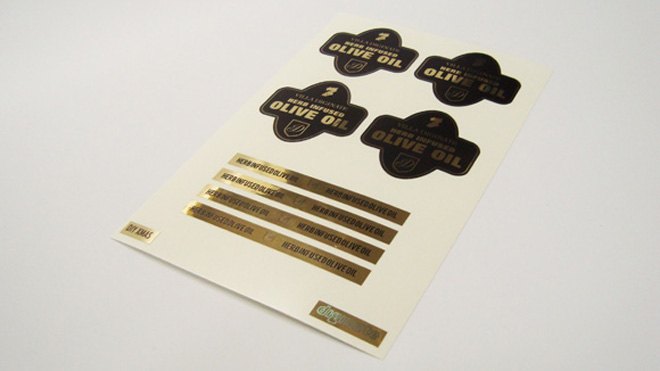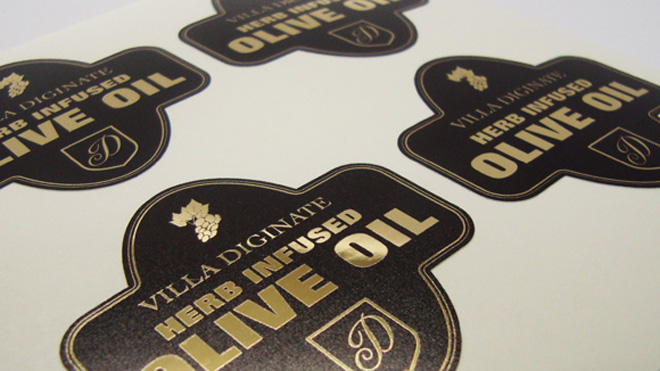 All you have to do is put the basil, thyme, rosemary and oregano into the bottle, Then using a funnel, pour in the oil. Put the lid on or cover tightly to make it airtight and then place it in the fridge. Remember it needs to be used within 2 – 4 days. Check out the finished result: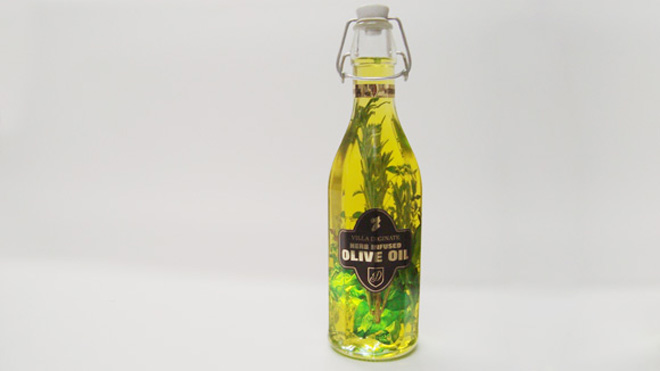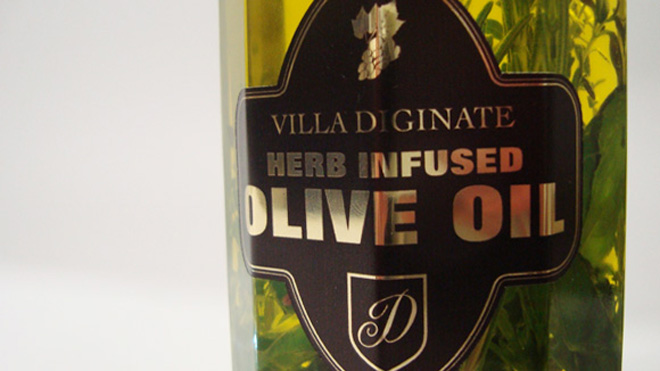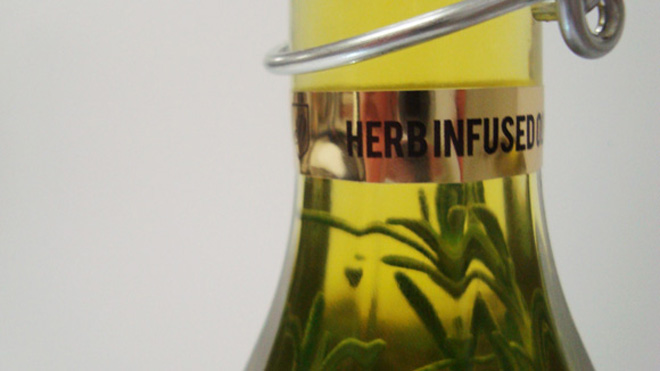 There are loads of variations on this theme, you can add different ingredients such as garlic cloves or chilli peppers for completely different flavours.
You can also make a cheeky alcohol twist on this theme… fill a bottle with some vodka, then add some skittles to make an instant flavoured alcoholic treat. You can still use Diginate labels to personalise the gift!