Diginate.com Blog
Behind the Scenes: get more from your lunch hour with GetLunched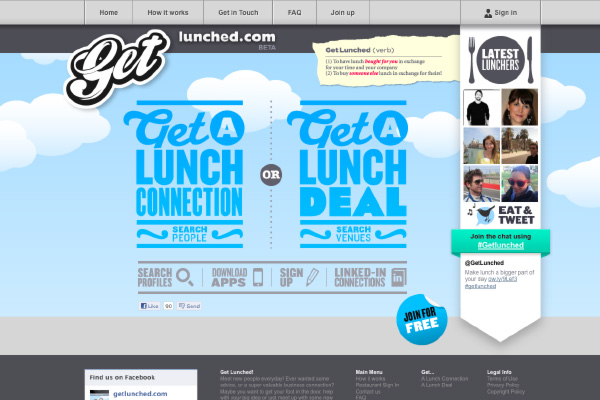 Once you get past the hub working, hipsters, and overspilling city boys in search of a good time there's no question that Shoreditch is a nice place to be. The 'Silicon Roundabout' tag gives the the impression of something planned, engineered, but the fact is that Shoreditch has been a haven for creatives for years, and the countless web start-ups that have migrated to the area are no different in mentality to the artists and craftsmen who preceded them.
GetLunched are amongst the latest wave setting up shop in the area. In fact, when I meet co-founder Matt Bandy on an untypically sun-kissed afternoon in late March they'd only moved into their new digs on Great Eastern Street one day previously. To describe the company as 'Linked-in with lunch' would be unfair – it may represent the mechanics of the operation but the ethos couldn't be further away. Whilst Linked-In facilitates bland 'business to business' interactions over the web, Get Lunched is all about real life, face to face meetings; making genuine connections. The 'convincer', of course, is lunch. Users – typically new media, advertising and entrepreneurial types – share their availability for lunch, and whether they're buying, would like to be bought for or, diplomatically, are happy to go dutch. For the brain-pickers among us it's a great opportunity, tapping into three fundamental human desires; to offer advice, talk about yourself and crucially, nab a free meal. With sufficient traction there's no question that the concept could work.
Traction is the key word; for social start-ups it's what determines dot-com stardom or a return to chained-to-the-desk drudgery. Off the back of a Mashable write-up and several other PR triumphs GetLunched have accumulated 400 London sign-ups in the first month of private Beta launch and a further 1000 invite requests from other cities. Matt intends to increase this to 6000 over the course of the year, before hitting 20,000 in the second; conservative targets in the high-growth world of Pinterest and Draw Something, but the focus is on quality. The model is reliant on a pool of potential lunch partners with something to offer, not the "people with cats as their profile pictures" to which Matt amusingly refers.
With friends and family investment behind them GetLunched can go forth and acquire users in relative comfort, this year at least. What happens after that is anyone's guess. Expanding the brand stateside is a definite possibility, but inspiring London's lunchers comes first, and GetLunched are well on their way.
Get Lunched use Diginate contour cut gloss vinyl stickers for their promo packs.
Find out more at www.getlunched.com