Diginate.com Blog
5 Reasons to use our NEW order updates via Text feature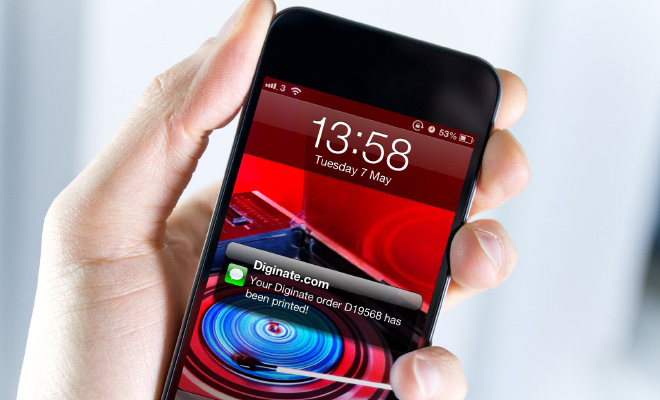 You've been able to follow your Diginate order's progress via twitter for a while now, and it's been so popular we've rolled it out for SMS.
If you have a phone and a phone number you can follow the highs and lows of your stickers (or posters) on their journey through the Diginate factory and to your door. The great news is that it's free (unless you're in the United States – I'm afraid you'll be charged 1¢ per inbound text) so you can enjoy it with no fiscal damage, and know where your order is at all times.
Here's 5 reasons why our SMS order updates might be useful for you:
Look popular on dates. Very few people like unpopular people. Our order updates will make you seem like you've got loads of mates, which is bound to help your romantic prospects. Little do they know, you've just ordered a sticker of a cat. You can even text back if you like! (Nobody will read it)
Keep secrets from your loved ones. If you've placed a Diginate order with the intention of gifting, our Twitter order updates could be a huge giveaway – Twitter is public you know! Make sure you're the only person who knows your dirty little secret with text updates direct to your personal cell.
Don't be a slave to the fail whale. We've all been there – your Diginate order status is just getting lively but all of a sudden "Twitter is over capacity". There's no such thing as a "Text fail whale" so with our text updates you're totally immune from the hazards of the deep.
You'll get tracking info. Serious one here, guys. We don't tweet your tracking info via our Twitter updates – the last thing you want is @StephenFry or @BarackObama trying to half-inch your stickers from the DHL depot. Use our text updates though, and you'll get lovely tracking numbers via SMS, for your eyes only.
Never be late for something ever again. Figure out how our production schedules work and you can use our order update texts as a handy reminder system. (Results may vary).
I'm sure there's loads more handy applications. If you come up with anything, text us! (Nobody will read it).